BLUNDERING INTO VICTORY
Copyright
©
2005, 2012 by Mark Strecker
Captain Oliver Hazard Perry, USN (1795–1819)
By Edward L. Mooney.
Wikipedia Commons Area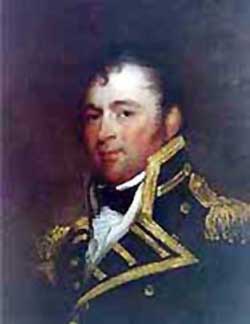 Isaac Chancey

Naval Historical Center
The Battle of Lake Erie took place during the War of 1812, a conflict neither Great Britain nor the majority of U.S. citizens and politicians wanted. It occurred not because of perceived grievances toward Great Britain but rather dreams of territorial expansion, especially into Florida and Canada. After the declaration of war, U.S. forces attempted and failed to invade Canada on several occasions. Of these, those based out of Ohio and the Northwest Territory found themselves hampered by the one thing they could not effectively wage war upon: nature. Thick forests, treacherous swamps, and raging rivers stood in the way. In addition to these formidable obstacles, travelers had to beware of hostile Native Americans. Using Lakes Erie, Champlain and Ontario would make moving men and materials much faster and far easier, but the British dominated these bodies of water.
In an effort to reverse this situation, the U.S. secretary of the navy sent Captain Isaac Chauncey to take control of Lakes Ontario and Erie, setting up his base of operations at Sacket's Harbor on Lake Ontario. The secretary of the navy decided he wanted a new squadron built for Lake Erie as well, so he asked the advice of a Pennsylvania-based merchant captain named Daniel Dobbins as to what location would work best. Dobbins suggested Presque Island Bay at Erie, Pennsylvania. As a natural harbor, it had a sandbar blocking its small entrance that would keep most unwanted vessels out.
The secretary made Dobbins a sailing master (a position often awarded to merchant captains who joined the U.S. Navy), gave him $2,000, and told him to build four gunboats. Dobbins began contracting workers and materials and, on September 26, 1812, construction began. Chauncey later ordered Dobbins to build two brigs in addition to the gunboats. Although constantly hampered by a lack of supplies (except for wood), the construction proceeded unhindered by the British. The shipwrights and carpenters there would only build the hulls and add masts. Other specialists had to rig and arm them. This meant Chauncey needed to find someone experienced to oversee the latter stage of the ship building operation.
Before the coming of the war, a naval lieutenant named Oliver Hazard Perry had come to Washington, D.C., begging for the command of a ship as he had received word Congress would soon declare war. He wanted to see action, something he had never experienced since joining the Navy as a midshipman at the age of sixteen. His most notable feat up to that time had come when he lost a schooner, the Revenge, off the coast of his home state of Rhode Island. Despite this, he managed to receive a promotion to master commandant, but it came with no command.
This he received on June 18, 1812, the day Congress declared war against Britain. His orders told him to take command of a "fleet" of gunboats at Newport, Rhode Island. When he arrived, he found the Navy had siphoned off so many of his men he had only eight left for each boat, far too few with whom he could do any sailing. Despite his inexperience, Perry did one valuable skill: he knew how to rig and outfit naval vessels. Knowing this, a friend of his recommended he put in for the command position opening on Lake Erie. He balked. He wanted to sail on the oceans, not some lake in the middle of nowhere.
He nonetheless wrote Chauncey and asked for the posting, mentioning he would bring with him 100 men. Chauncey could hardly believe his good fortune. Here he could solve two problems at once. First, he would get an officer who had experience rigging and arming sailing vessels. Second, he would acquire qualified mariners as he lacked a sufficient pool. He accepted Perry's request to serve under him, ordering him to take temporary command of the squadron at Presque Island Harbor until he himself could arrive.
Because American naval ranks differed significantly in Perry's day, it seems prudent to give a few details about his and others before 1815. The rank of master commandant equaled commander in today's navy. It effectively created a junior captain who, by law, could not command any vessel with twenty-one or more guns. Directly under this rank came lieutenant, and, below that, midshipman. As in the Royal Navy, when a lieutenant or master commandant took command of a vessel (almost never one classified as a "ship"), the men on board called him "captain."
In contemporary letters written by other naval officials to or about Perry, they usually referred to him as such. No American rank rated higher than captain until 1815, and that of commodore did not become official until the Civil War, although those who commanded a squadron of vessels received it in an honorary capacity, and they could use it even if commanding a single vessel. People therefore referred to Captain Chauncey as a commodore, as they did for Perry when he took full command of his squadron.
When Perry arrived at Sacket's Harbor to meet with his new commander, he found things not to his liking. Chauncey commandeered a third of his men and would not allow him leave for fear of an impending attack on the base. (He almost always thought the enemy had the advantage, so he only went into a battle if he had virtually no chance of losing.) After two weeks, Perry took a sleigh over the frozen lake to Presque Isle Bay. There he plunged into the task of finding men and supplies and getting the new vessels launched.
As he did this, Lieutenant Robert Heriot Barclay, a far more competent and battle-hardened seaman than Perry, took command of Lake Erie's British squadron. The problems Barclay faced made Perry's look minor. The British commander in charge of all lake operations, Captain Sir James Lucas Yeo, had earlier offered this command to a captain named Mulcaster, but the moment he saw squadron's state, he refused. Yeo offered it to Barclay and he, like any ambitious junior naval officer in the Royal Navy, took it. The five vessels in his new squadron had formally served as merchant craft before their draft into military service. Their builders had intended them to transport cargo, not fight battles.