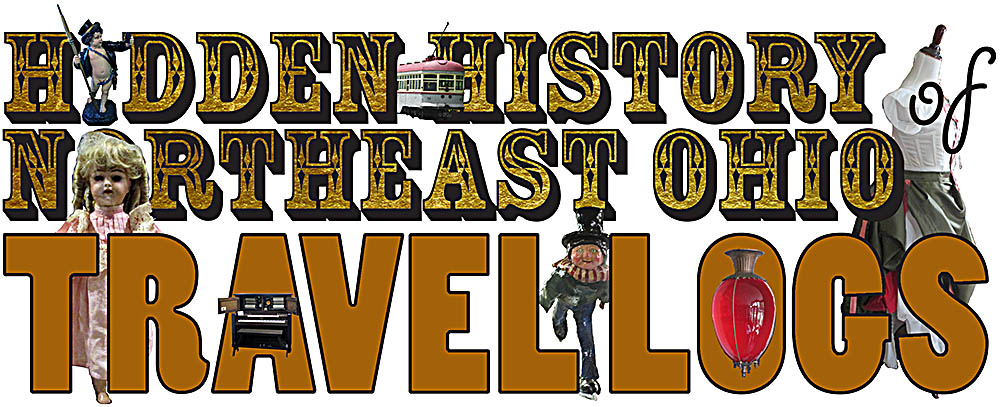 Century Village Museum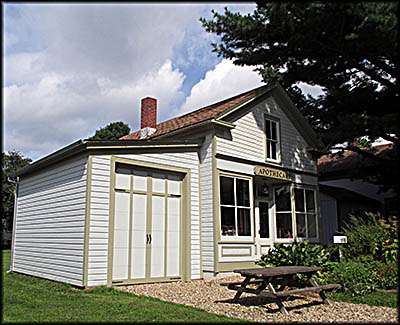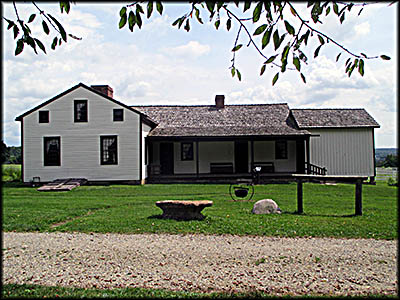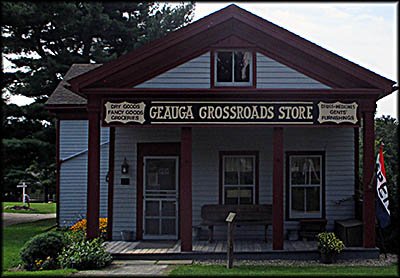 I have a particular fondness for living museums that recreate a historical moment in time, such as the one in Williamsburg, Virginia. Century Village Museum, which is operated by the Geauga County Historical Society (GCHS), is this type. Located in Burton, it represents a nineteenth century village using historical buildings mostly brought to the site from elsewhere. The day I visited I lucked out. No one had come for the eleven o'clock tour except for me, so I got a one-on-one one tour from Karen J. Hale, a registered nurse, professor, and history enthusiast.
The museum opened on May 30, 1942, with the Eleazer Hickox House as its only building. The idea for the GCHS was conceived at an 1873 family reunion at which descendants of John and Ester Ford gathered. The idea of forming a Geauga County historical society was proposed by Colonel Henry Ford who discussed the idea with his guests Lester Taylor, Homer Godwin, and General James Garfield, who in 1880 would be elected president of United States only to be cut down by an assassin's bullet the next year. The GCHS's constitution was introduced on September 16, 1873, with Garfield giving a speech that day. Because its members found it difficult to get to meetings, it languished for a time until resurrected by B.J. Shanower on July 4, 1935. The six and one-half acres of land on which the present site stands was donated in 1941 by Frances P. Bolton, the first women elected by Ohio to go to the U.S. House of Representatives.
The Hickox House in which Stella lived was built by Eleazer Hickox in 1838. It's one of two buildings original to the Century Village site, other being the White Barn, so called because of its color. The original part of the Hickox House was made of brick and the later addition of wood. Part of its first floor is set up to show how a wealthy family lived in the nineteenth century while the rest exhibits Civil War artifacts from local families that includes a prosthetic arm with a hook.
The first exhibit you see upon entering the Hickox House is a display of mechanical banks behind glass. This type of savings plan was first introduced around 1800. The earliest ones were probably made of wood or lead. About 1860 the manufacturer John Hall began producing the tin Excelsior, the first mass produced mechanical bank to sell well. Other materials used for these banks included pottery and glass. After the Civil War, cast iron became the dominant material. It is possible some of the ones on display in the Hickox House are worth a lot because some of these antiques are highly sought by collectors. There is a thriving market for fakes.
Hanging on the house's walls are several paintings by Ohio artist Archibald Willard, whose most famous work is The Spirit of '76. In one of the rooms is a painting of his favorite nephew (who died young) for which Willard only did the face. Although the painting is, to be blunt, pretty awful, it does have one interesting feature. The face's eyes watch you no matter what angle you look at it. This is a technique Willard had recently learned, though it's not much of trick once you know its secret. Any painting with realistic three-dimensional eyes that look directly at the viewer will appear to follow you as you move from one side of the painting to the other.