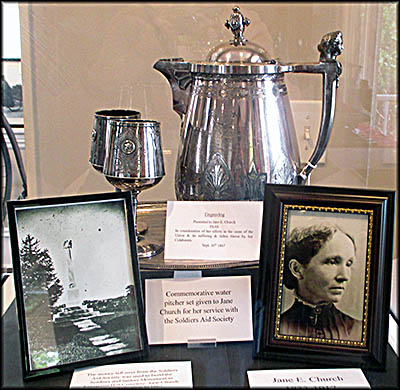 This silver picture was a given to Jane Church from the Soldiers' Aid Society as a thanks for her work with wounded soldiers during the Civil War.
Crane Cottage (Postcards)
Chagrin Falls Historical Society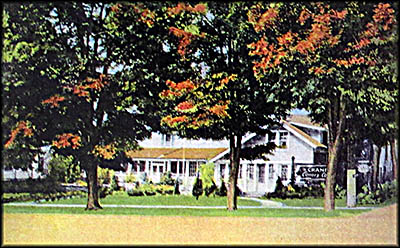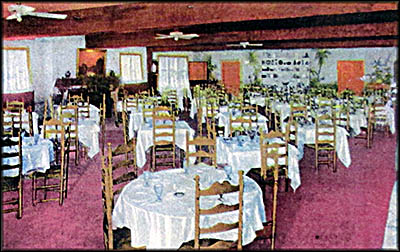 Appropriately enough, I saw this
chamber pot in the museum's restroom.
In 1935, he put together a list of 167 restaurants in thirty states plus Washington, D.C., then sent it out as part of his annual Christmas card. He figured this would stop people from calling and pestering him for advice where to eat. Instead they asked for copies to give to their friends and family. So at the age of 55, he published his first version of Good Eating for the Discriminating Motorist that contained almost 300 places. It sold for one dollar.
After the first edition sold out, he raised the price to $1.50 and kept it there for the next twenty-five years. He abandoned his job as a salesman, then dedicated his time to visiting eateries across America so he could update his book. He always paid for his meals and accepted no advertisements. In the 1950s, restaurants with Hines's recommendation proudly put up signs advertising that fact. He commodified his name at the age of seventy-two when he and partner Roy H. Park founded Hines-Park Foods with its offices in Ithaca, New York. This venture would only put Hines's name on quality food. At the age of seventy-six, Hines sold the company to Proctor and Gamble.
It was Hines's review of Canary Cottage that made it famous across the United States. The 1936 edition's review read:
Crane Cottage Sitting Room (Postcard)
Chagrin Falls Historical Society
In 1930 Crane married his restaurant's hostess, Bessie Meachem. When he died the next year, Bessie kept the place going until 1942 when World War II shortages caused her to close it. A few years later she and her second husband converted the premises into an antique shop that operated in the 1950s.
A truly unusual home restaurant, furnished throughout with antiques. Log-burning fire-places, comfortable lounging rooms with fine oil paintings; pretty gardens and trees, it is a delightful place for a luncheon or dinner—with food and service you will remember with pleasure. Their specialties are steak, chicken, lamb, sugar ham, duck and salads. Reservations not required. No rooms available. And no liquor! Doubt if you will find more delicious food in the Middle West. Prices from $1.35 to $2.50.
Crane Cottage Terrace (Postcard)
Chagrin Falls Historical Society