Charleston Museum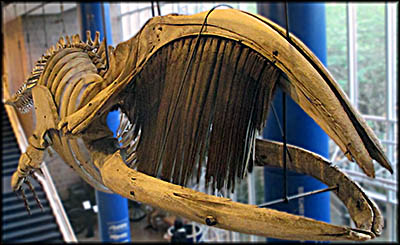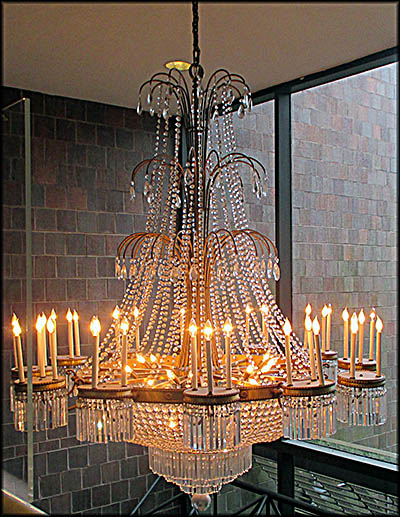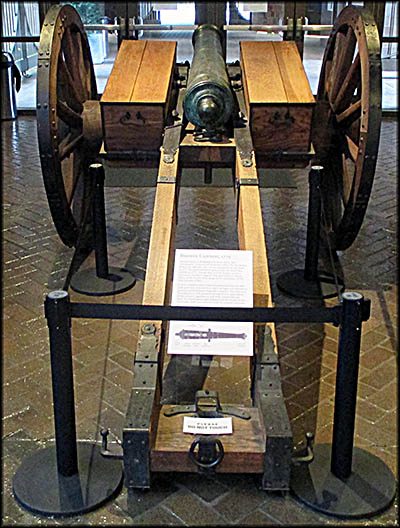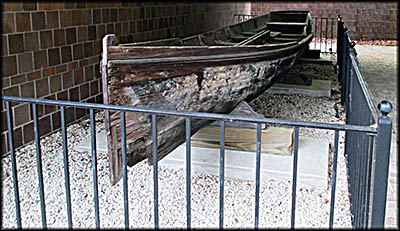 Ladies and Gentlemen, welcome to the Charleston Museum, the oldest museum in all of North America. Look up and you see hanging from the ceiling an Atlantic right whale (Exhibit A) that swam into Charleston Harbor on January 7, 1880. The good citizens of this fine city enthusiastically greeted it with between fifty and sixty rowboats, four steam tugs, and many other water-going vessels, then killed and harvested it for its valuable blubber and oil. But shed no tears. The then-curator of this very museum, Gabriel Manigault, gathered up its bones, assembled them to a size of just under thirty-six feet, then put them on display. As you gaze at this wonder, move your eyes to the back of the building and hanging from the ceiling you will see a beautiful electric chandelier (Exhibit B) from the now-closed Fort Sumpter Hotel. Chandelier enthusiasts will undoubtedly want to know that it has a total of 4,365 prisms.
Before you came through our doors, you might have noticed we have on display a steam engine (Exhibit C) dating from the 1850s. Made by the Charleston business Cameron, McDermid and Mustard (the last not having killed Professor Plum despite ugly rumors to the contrary), it was used to thresh and mill rice at Fairlawn Planation. Beside this we have Bessie (Exhibit D), a plantation barge carved from a single log used by the White Oak Planation along the North Santee River.
The bronze cannon (Exhibit E) pointed at one set of our doors offers no danger to visitors. James Byers made this in 1775 in Philadelphia. It was used during the War of Independence and for some years "guarded" Magnolia Cemetery in Charleston. The carriage upon which it now sets was constructed in 1976.
Look up again and notice the statue of Charity (Exhibit F), or at least what's left of her. She once proudly stood in a cupola at the Charleston Orphan House. This structure was erected between 1792 and 1794 to house all the orphans left behind after their parents perished in a yellow fever epidemic. Charity was added to the orphanage during its 1853–1854 expansion. The orphanage building was demolished in 1952. Charity is the only survivor.
Let us move to the Bunting Natural History Gallery and gaze upon the skeleton of Thecachampsa carolinensis (Exhibit G), a type of crocodile that lived between twenty-six to twenty-eight million years ago. What you see here is a cast that is eighteen feet long, The original was even bigger. Let us move on to this excellent example of taxidermy, our polar bear (Exhibit H), which was killed by Henry J. Blackford near Kotzebue, Alaska.
Here is a favorite of mine. This salesman's trunk (Exhibit I) was used by Paul E. Trouche, Sr., from 1890 to 1901 to promote his retail store. He moved it by rail and went as far afield as Beaufort, Orangeberg, and Georgetown in South Carolina, then beyond the state borders into Georgia and North Carolina. Some of the items you see within are a hand mirror, fountain pens, chewing gum, cigarettes, change purse, clothes pins, dice, marbles, and swan bill hooks and eyes for sewing. We will briefly return to the subject of sewing later in our tour.
Now let's take a look at the origins of the Holy City, so called because Charleston has so many churches. Its beginnings weren't so hallowed. Imagine one day you're minding your own business and strangers with pale skin arrive. At first they just want to trade, but then they start to build houses and take over your land. They bring with them diseases that decimate your population. The original inhabitants of the Carolina coastlands were forced to move inland. Wars broke out. Eventually the power of the pale skins was too much and slowly but surely the native people disappeared from sight.
So why did these pale skins (the English) come? King Charles II granted eight men, known collectively as the Lords Proprietors, a vast swath of North American land as a reward for their service to him. The English didn't know what awaited them here, but no matter. The Lords Proprietors, being all aristocrats, thought it an excellent idea to set up a feudal system in their new colony, Carolina, based on land grants to colonists. Most of the Proprietors never set foot in the place. An exception was Lord Ashley Cooper, 1st Earl of Shaftesbury, who established a 12,000 acre planation called St. Giles Kusso (abandoned in 1685). Back home, Cooper get into trouble for opposing Charles II's brother, James, from becoming king. Charged with treason, he spent time in the Tower of London. After the charges were dropped, he moved to the Netherlands where he died in exile. It's from him that the two rivers surrounding Charleston received their names.
The Lords Proprietors were never good managers, their feudal system didn't work, and by 1719 Carolina Colony came under royal rule. It split into two parts, North and South, ten years later. The original Charles Town was abandoned and relocated on the peninsula between the Ashley and Cooper Rivers. It originally had walls for protection, although being a sea port with a natural harbor, that didn't always help.