Firelands Historical Society and Laning-Young Research Center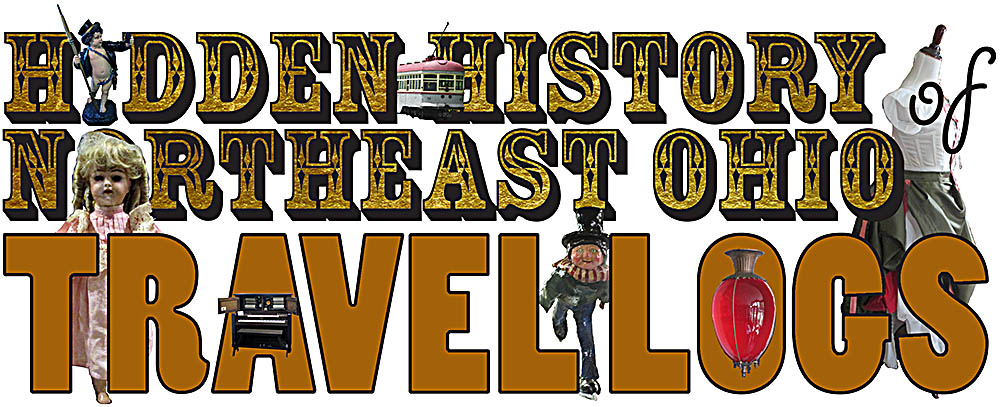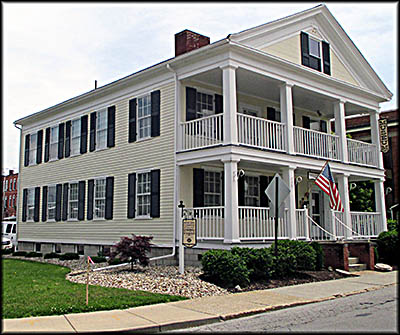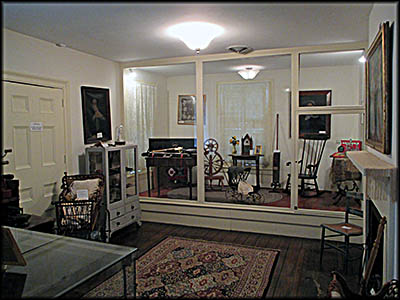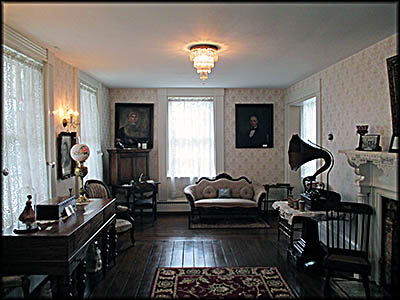 I'd repeatedly walked past the historical Wickham House to reach the Norwalk Public Library and always considered visiting but, just like locals do all across the world, I never got around to it until I finally started work on my book Hidden History of Northeast Ohio. It and the Laning-Young Research Center across the street comprises of a museum run by the Firelands Historical Society. From the outside, the house doesn't look especially large, so I figured it wouldn't contain all much. Within I'd see the sorts of things one usually finds in a small town historical society such as clothes, photographs, antiques, and at least one piano or organ.
I did find those things here, but it held a collection far more extensive than I'd ever imagined, including one of the most inclusive and impressive assemblies of historical firearms I've ever seen. Its exhibits had the same quality one might in find in the Smithsonian's National Museum of American History, not an easy thing to achieve on a limited budget. Then again, according its website, it's Ohio's oldest museum, so maybe I shouldn't have been so surprised about the treasures it has amassed.
There are no guided tours. The person who sold me my ticket told me he disliked those because what I might find interesting could be completely different than what a guide might talk about. Every item is labeled with plenty of information, so nothing is lost with a self-tour. There are three floors packed with interesting artifacts, yet it never seemed cluttered. One item worth noting is the double base viol on display. Not having ever seen one in person, I could not believe just how large this instrument is. This particular one was made by J.B. Allen in Springfield, Massachusetts, in 1842 with special strings imported from Italy. It was once owned and played by a musician from Connecticut named Palmer Gallup. He accompanied his church's choir with it. At the age of seventy he played in it in an orchestra that performed at the eight day long 1872 World's Peace Jubilee and International Musical Festival held in Boston, which celebrated the end of Franco-Prussian War.
When I lived in Monroeville, located a few miles west of Norwalk, I often passed by a mostly derelict factory whose original purpose was unknown. Thanks to a photograph I saw in the Wickham House, I now know it was originally a woolen mill. For a time it became the home of the Edna Organ and Piano Factory, a company that started in Massillon. It sometimes seems that no self-respecting historical society is without at least one piano and organ, and I've never visited a historical society's museum without at least one of these instruments. This was because from the mid-nineteenth century to the early twentieth if a household could afford it, they would have one or both. After all, in the days before radio and television, the only way a family was going to hear music in their home was to produce it themselves.
So why did Americans choose the piano and, to lesser extent the organ, over, say, the violin or bassoon? During the American Revolution few colonists had a piano, but by the 1820s cabinet makers were building them domestically, mostly in the Northeast. One cabinet maker who went into the piano making business was Jonas Chickering. I saw examples of his instruments in the McCook and Spring Hill Houses.