Gnadenhutten Museum and Historic Site

Jefferson Depot Village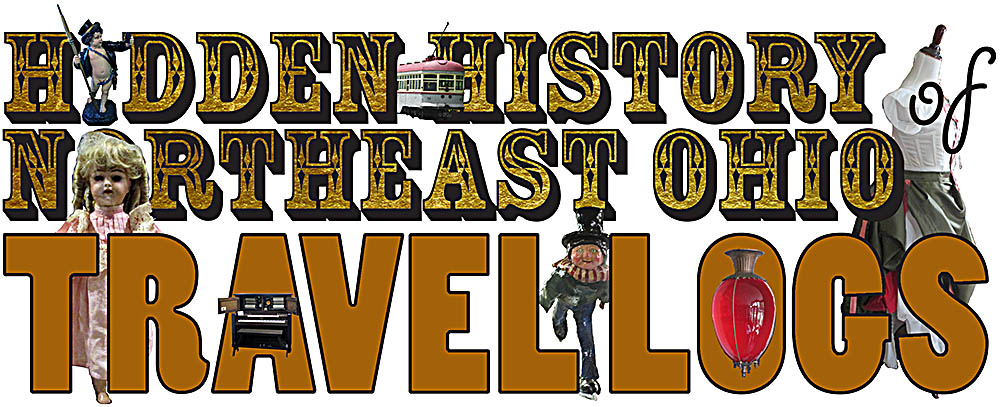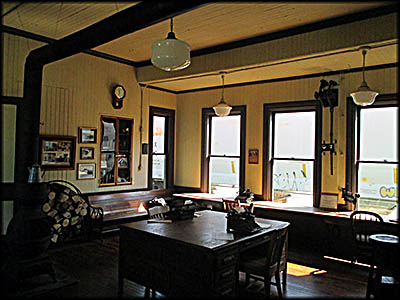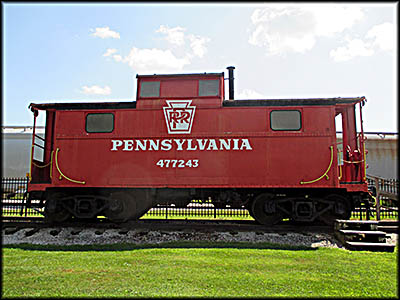 Jefferson Depot Village was not what I expected. Based on its name I thought its focus would be about a railroad station in a small village, but it turned out to have a wide variety of historical structures that tell a much broader story. The depot itself, quite impressive for one constructed for such a small community, once belonged to the Lake Shore & Michigan Southern Railroad. A history of nearly all American railroads is one of consolidations that, if charted out, would look like an upside-down family tree, and this one is no exception. It traces its roots back to eight different railroads that merged into four—Michigan Southern & Northern Indiana, Cleveland & Toledo, Cleveland, Painesville & Ashtabula, and the Buffalo & Erie Railroads—that in turn consolidated into the Lake Shore system in 1869.
Jefferson's depot was built in 1872. Divided into three main rooms, our tour guide brought us first to the waiting room for ladies and children that also had two ticket windows. Next was an office, or communications room, that included an out of place piano. The final and largest room served as the baggage area and men's waiting room. Here my traveling companions and I were warned to be careful because a baggage scale makes the floor uneven. On one of the walls was a painting of the Great Ashtabula Train Disaster of 1876. This terrible event is cover in my book Hidden History of Northeast Ohio in the chapter about Ashtabula County.
Jefferson Depot has on its grounds one that belonged to the Methodist Episcopalian Church, a denomination that has since became part of the United Methodist Church. Built by William H. Fay for $1,000, the church officially opened on July 22, 1848. Within thirty years the congregation grew too big to fit into this modest structure, so in July 1882 it moved into a larger brick building. By 1987 the 1848 building had fallen into disrepair and its owner, CountryMark Stores, wanted it destroyed or removed. It had no floor, its inside had become rotten, much of its roof and rafters had gone, and many of its windows and doors were missing. Jefferson Depot rescued it and has since done marvelous restoration work.
At first this church's congregation didn't have a dedicated minister but rather had to wait until a circuit riding one showed up. That he was a Methodist was no accident. That religion pioneered sending ministers into the frontier to turn it from godless to a godly whether the settlers wanted it or not. And most didn't. Reverend Samuel J. Mills, the father of American missions, complained about the wickedness of settlers in the Northwest Territory. He spent one Sunday in a Kentucky town trying to gather a crowd from the two to three thousand inhabitants to listen to his sermon and the Word of God, but none came. A Baptist minister roaming Ohio complained that some places he visited had not been preached to "for ten or fifteen years."
It was the Methodists in America who developed the idea of the circuit riding preacher. This strategy helped spread Methodism extensively through the Northwest Territory and addressed a shortage of ministers by allowing a single person to tend to a wide area of people. These preachers didn't do it for the money. Peter Cartwright was an early circuit rider who recalled being paid $40 for his work in 1806 and being glad he got that much. Some of his fellow riders received half this. Circuit preachers tended to be young and unmarried and some weren't even ordained. Preachers such as Cartwright often went hungry.
Cartwright was ordained a deacon in 1806 and in that year assigned to the Marietta Circuit, which stretched about 300 miles in length and required him to cross the Ohio River four times. Worse, those who had settled in his circuit were Yankees, a breed he had never before encountered. Having been born in Virginia and raised in Kentucky, he had heard little good about these foreign creatures, who supposedly ate pumpkins, fatty meat, large quantities of molasses, and drank bohea tea, a low-quality brew the American colonists had come to love. Yankees, he had heard, did not like loud preachers and made fun of backwoods ones such as himself. He tried to get the bishop to change his route, but to avail.