Johnston Farm and Indian Agency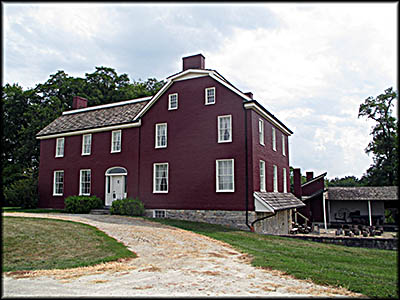 I've been wanting to visit the Johnston Farm and Indian Agency for quite a few years but never got around to it because of its short season. It's a farm once owned by John Johnston and is only open to the general public in June, July and August. Being run by the chronically underfunded Ohio History Connection, I was surprised how much work was recently done to the Johnston house. It had been restored to its original Federal style after its interior was incorrectly given a Victorian look in the 1960s. There is also a small museum on the grounds that was having its exterior remodeled.
Upon arrival, I was delighted to learn that the modest entry fee I paid to get in included a ride on the nearby working section of the Miami and Erie Canal. The first ride of the day was set to begin shortly after my traveling companion and I got there, so down to the canal we went. Along its side floated the General Harrison of Piqua, which was certified by the American Canal Society (who knew it existed?) in 2009. I wrote about the Ohio and Erie Canal in my book Hidden History of Northeast Ohio, so I was excited to have my first ride in a canal boat. Except it wasn't. My mother, who had come with me on this trip, informed me I'd ridden in one before when I was quite young. But if you can't remember it, does it really count?
In the earliest day of America, boats were pulled by beasts of burden. In our case, mules provided the power. As we cruised at a speedy two miles per hour, our guide gave us some of the history of Ohio's canal system in general and the Miami and Erie Canal in particular. Started in 1825, the Miami and Erie Canal was the brainchild of businessmen in Cincinnati. They predicted a canal connecting their town to Lake Erie would help grow its economic development. When Cincinnati businessman Ethan Allen Brown became Ohio's governor in 1818, he got the state legislature to make this idea a reality. With money tight, in 1825 the legislature was only able to fund a section of the proposed canal from Cincinnati to Dayton, although plans were laid to continue it all the way to Lake Erie. This first section was completed in 1829, and it benefited Dayton so much that it tried to block the canal's extension farther northward. Affected communities through which the canal was planned to go fought that, and in the end it was none other than John Johnston who led the campaign to resume the canal's construction. Work restarted in 1833 and was completed in 1845. The canal spanned 248.8 miles and rose to an elevation of 512 feet above Lake Erie.
All of Ohio's canals had the same width and depth, measurements borrowed from New York's Erie Canal. The entirety of the Miami and Erie Canal was dug by hand using picks, axes, shovels, and some black powder—an amazing accomplishment. Although local farmers did some of the labor as a means to earn extra income, their numbers weren't nearly enough to do the work, so German and Irish immigrants were brought in. Irish and Germans didn't get along, so they had to be kept separated. The backbreaking labor these immigrants did paid little and involved working from sun up to sun down. Outbreaks of diseases such as cholera and malaria at times devastated this workforce. Those workers who died were buried under the towpath, meaning any time you walk on it, you're stepping over graves. One outbreak of disease in 1827 got so bad, Ohio was forced to use convict labor to keep the work going. Another epidemic in 1829 prompted many of the workers to skedaddle.