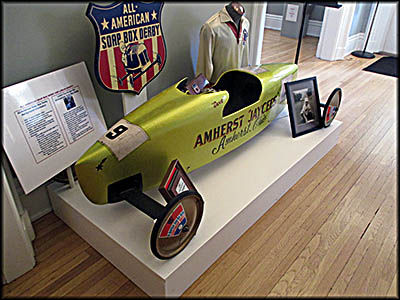 The Garford family's servants
would respond to this bell when it rang.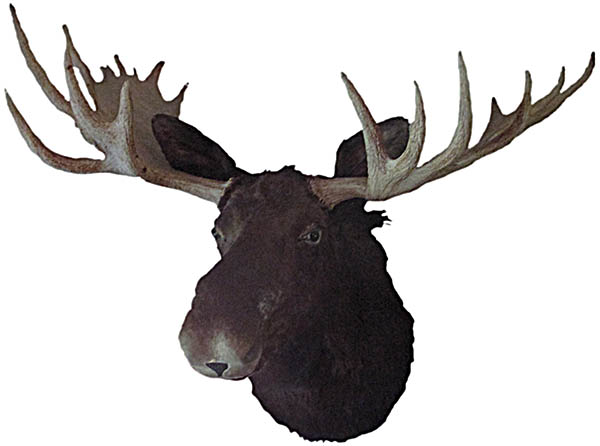 This bull moose head hangs on a wall in The Hickories.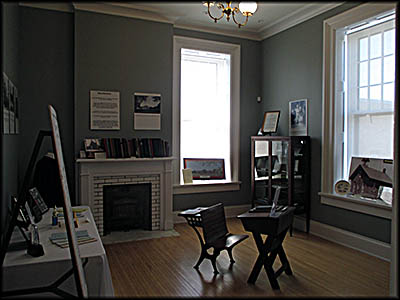 Inside the Lorain County Historical Center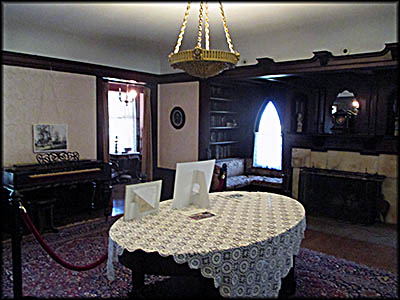 The Hickories' Living Room. The table was probably used for family activities such as playing games.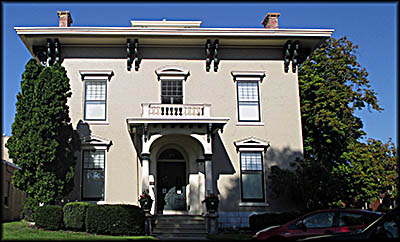 Lorain County Historical Center
If you're a bell enthusiast, this is the place to come. There is a good-sized one on display. It once hung in Elyria's original court house on Ely Street from 1849 to 1880. The county gave it to St. Andrew's Church, which it rang until 1938, at which time it was put into storage. In 1972, the church donated it to the LCHS. At that point it wandered in the wilderness until finally finding a permanent home in the museum.
On the day I visited, there was an exhibit about the Woman's Suffrage movement in Lorain County. Woman's suffrage launched in earnest in July 1848 at Seneca Falls, New York, where Elizabeth Cady Stanton and Lucretia Mott led a meeting to discuss the matter. The movement culminated with the ratification of the 19th Amendment on August 18, 1920, which gave women the right to vote anywhere in the United States. It's a right that on a moral level they should never had to fight for in the first place.
Even before the 19th Amendment, women ran for and won elected offices in Lorain County. Once such person was Emma Olds, who was elected to the Elyria School Board in 1911. After 19th Amendment passed, former Lorain County suffragettes won elected offices. Mabel Marsh became the first woman to win a county-wide election in 1922 when she was elected the Clerk of Courts. But equality did not come easily. It wasn't until 1976 that Elyria elected its first female mayor, Marguerite Bowman, who served until 1979.
As I headed to the stairs to visit the upper floor, I stopped in my tracks to take a closer look at an unusual-looking item: a fish on a pole that proudly says, "Lorain County Historical Society." This was a head-scratcher. What does a fish have to do with the LCHS? Despite the proximity of the Black River and Lake Erie, fishing was never a huge industry in Lorain County. So I asked about it, and learned that years ago the city of Elyria decided to promote its various attractions by putting fish signs up everywhere so one could "catch" the sites. Or something like that. The staff member who explained this to me remembered the event but not that many details.
The hallway you see upon getting to the top of the stairs is used as part of the museum's World War II exhibit. Here a variety of information signs explain how different Lorain County industries contributed to the war effort. Cranes built by the Thew Shovel Company in Lorain were sent to the European front. Elyria's Colson Company made a collapsible litter carrier. Bendix-Westinghouse made air supply units for the Army.
Many of these companies received an E-award. The "E" stands for "excellence." Lorain County Historical Center's staff member Donna sent me the following email explaining more about it: "During WWII the US Army & Navy gave the 'E' award for high achievement in material production. Locally, General Industries earned the award three times during the war."