This fish was once used a promotional piece to
entice people to visit the Lorain County Historical Center.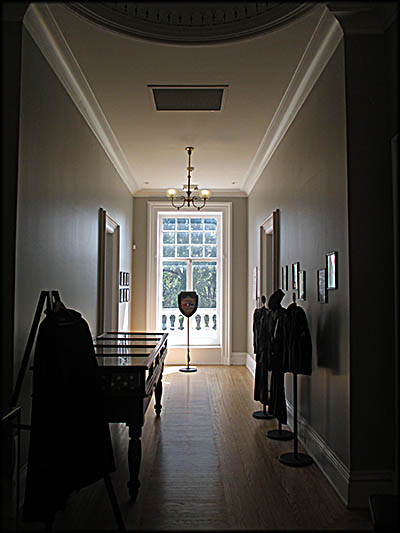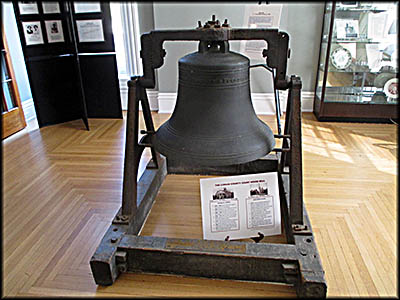 Lorain County Bell (Retired)
Hall Portion of the World War II Exhibit
General Industries was founded in Elyria in 1903 as the Dean Electric Company, which made telegraph switchboards and car horns. In 1914 it was bought by Garford Manufacturing, another company started by Arthur Garford. This was sold to Otto Heineman, who renamed it the General Phonograph Manufacturing Company Division. In 1925 General Phonograph spun off General Industries, which made phonograph record changers for Zenith and Capehart. In 1936 it added injection molding to its capabilities, so that during World War II, it produced a plastic part for the Browning Automatic Rifle (BAR), plastic canteen bottles, mortar shell fuses, and parts for radio control. Other E-Awards for Lorain County industries included American Radiator Cap, Bendix, Colson Corporation, K & S Tool, National Tube, and Perry Fay.
The city of Lorain once had a shipyard with two drydocks operated by the American Shipbuilding Company (AmShip). This company, originally founded in 1886 as the Cleveland Shipbuilding Company, constructed, among other things, iron ore cargo ships. By 1950 it was the largest ship builder on the Great Lakes, and in 1972 it bought Tampa Ship & Dry Docks. By the 1980s, the Midwest's industrial might had waned, its need for ore carrying ship diminished, so in 1984 the Lorain yard was closed.
During World War II, AmShip built the frigate USS Lorain, which was sold to the French in 1947. A museum information sign says that AmShip also built the aircraft carrier USS Sable, but this is a bit misleading. In 1924, AmShip built a paddlewheel luxury liner launched as the Greater Buffalo, and during World War II, it was converted to an aircraft carrier training ship. The conversion was done by AmShip at its Buffalo, New York, docks. One aircraft carrier pilot train who trained on the Sable was none other than George H. W. Bush.
Another Lorain County industry critical to the war effort was steel production. The county became a steel-producing powerhouse because of its geography: it was along Lake Erie, had the Black River flowing through it, and had an extensive rail system. But the bigger your rail system, the more likely you are to have train accidents. A major one occurred in the village of Kipton on April 19, 1891, on tracks owned by the Lake Shore & Michigan Railroad.
Mail train No. 14 was going eastbound at 55 miles per hour when it collided head on with the westbound Toledo express No. 21 at Kipton Station, causing both trains to telescope. Several cars were reduced to splinters. No. 21, being a passenger train, was supposed to stop at Oberlin but continued on to Kipton where it normally moved to a siding to allow No. 14 to pass. Being late, it didn't have time to so do, and a terrible wreck resulted. Both trains' engineers as well as four mail clerks were killed. Amazingly, although they suffered injuries, no passengers died.
A newspaper report about this wreck in New Orleans' Daily Picayune said without sparing readers any gory details: "The engine of the Toledo Express was knocked squarely across the track, and that of the fast mail reared in the air, resting on top of the other.… The force of the collision was so great that of the sixty-four revolving chairs in the two parlor cars, only four remained attached.… Charles Topliff, the engineer of the fast mail, remained bravely at his post and was found with his hand om the throttle, dead. His hands and face were so badly scalded that the blackened flesh dropped from the bones."