Copyright
©
2012 by Mark Strecker.
Captain Gustavus Conynhgam, Continental Navy
Engraving contemporary to the American Revolution, based on "the Original Sketch which was taken by an Artist of Eminence, and stuck up in the English Coffee House at Dunkirk".
U.S. Naval Historical Center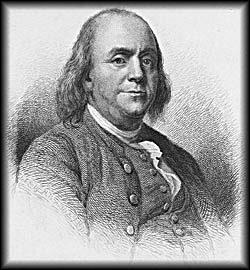 Benjamin Franklin

Library of Congress
Gustavus Conyngham's career as a privateer captain during the American Revolution reads like an adventure novel, complete with setbacks and bad luck. This forgotten naval hero lived in Ireland but, after moving to Philadelphia, became a fiercely patriotic American. Virtually no documents exist that describe his life in Ireland, although we do know he came from the Protestant gentry class. The mass of records about his activities during the war provide ample details about his actions but offer little in the way of information describing his personality.
Conyngham initially began his war career as the captain of the merchant brig Charming Peggy, a vessel he took to Holland for the procurement of munitions. When he arrived, the Dutch refused to allow him to dock. He moored behind the island of Terheide and waited for two Dutch supply ships to bring him his goods. Before they arrived, a gale whipped up the sea and forced the Charming Peggy to move to Nieuport, where she entered a canal.
Four days later the supply vessels caught up, but a contrary wind and high tide knocked Charming Peggy onto a sandbar, where she became stuck. One of Conyngham's men deserted and reported his position to the British consulate in Ostend. Although he managed to free his brig from its canal prison, the British caught him before he could make an escape to sea. They placed a guard on board with plans to take he and his crew into custody when they could arrange it, but before that happened, Conyngham and his crew overpowered the sentries and retook control.
Contrary winds kept Charming Peggy from making her way out. Rather than risk capture again, Conyngham and his crew abandoned ship and made their way into Holland. From there Conyngham traveled to France to make contact with Americans there in hopes of becoming gainfully employed in the American cause. He soon got his chance. A man named William Hodges purchased a vessel to serve as a privateer against British shipping in European waters and made Conyngham her captain.
Hodges took his orders from the American Commissioners, a group of Americans living in France composed of Benjamin Franklin, Silas Deane, and Arthur Lee. They had the task of clandestinely commissioning American privateers to sail European waters with the mission of capturing British merchant ships and bringing them into French ports. By doing so the American planners hoped to spark a war between the two great powers. Franklin took the most interest in Conyngham's privateer career. He issued Conyngham his first commission, which gave him the rank of captain in the newly created Continental Navy. It also served as a letter of marque, giving him the legal authority to capture British merchant ships without the fear of being arrested for piracy.
His new vessel, the twelve-gun cutter Surprize, fitted out in Dunkirk's harbor, the worst French port from which an American privateer could possibly launch an attack on British shipping. The 1763 Treaty of Paris forbade the French from arming it with defenses, kept it open to all British shipping, and created the position of a British inspector to ensure the French complied. Nonetheless, the Surprize departed on May 1, 1777. Conyngham disguised her as a smuggler but the ruse fooled no one: the British already knew her true purpose.
Three days later the Surprize took the British packet Harwick (a mail and general transport vessel) and, the next, another packet, the brig Joseph. Conyngham then did something either extraordinarily stupid or incredibly bold, depending on one's point of view: he returned to Dunkirk with both vessels in tow! Before the British could mount protests and express outrage, Hodges took all the captured mail to Franklin and the other commissioners, who found this intelligence invaluable. The British protested vehemently. The French quickly seized the two packets and threw Conyngham and his crew into jail, confiscating Conyngham's commission and sending it to Versailles, where it promptly disappeared. They released them in June after restoring the packets to the British in an effort to quiet them down.
Hodges sold the Surprize. He then bought a twenty-five percent share in a new vessel, the 130-ton cutter Revenge, in partnership with Conyngham's recently arrived cousin, David Conyngham, and the Continental Congress. The Americans claimed they planned to use her for smuggling. When told this by French authorities, the British ambassador, Lord Stormont, cynically noted that smugglers do not arm themselves with eighteen guns. The British no intention of allowing the Revenge to leave port unless the French to obtained a money security from her owners to assure them that she would not attack any British vessels, something Hodges insisted would ruin him. French officials wrote letter after letter to one another denying they knew anything about the Revenge's use as a privateer. The British, unperturbed, sent a flotilla of five ships to guard the harbor to ensure the Revenge never emerged. If she did, they would burn her the moment she cleared the harbor.
Upon learning of this plan, the French "inspected" the Revenge twice and found neither arms nor any Frenchmen among the crew, a convenient lie. The French commandant at Dunkirk, M. de Guichard, slyly reported to Comte de Vergennes, the French Minister of Foreign Affairs, that "if, in the country or the coast, or in the dunes during the night any Frenchman has been hidden, who may have found means of joining the smuggler, that is impossible for me to anticipate or prevent." When Guichard received orders to stop Conyngham from leaving, he refused, arguing that since Dunkirk had no arms of any sort and that the Revenge did, he could do nothing to stop her.
She departed on July 17, 1777, with no molestation from the Royal Navy because she had supposedly disarmed. Although the British knew otherwise for certain, they did not care because the Revenge's owners had provided them with the demanded security. A few days later she secretly arrived in another French port in which she picked up arms, acquired supplies, and signed up French crewmen. Although accounts differ, by the time she headed back to sea, she had between fourteen and twenty guns and a crew of about seventy men.