National Road & Zane Grey Museum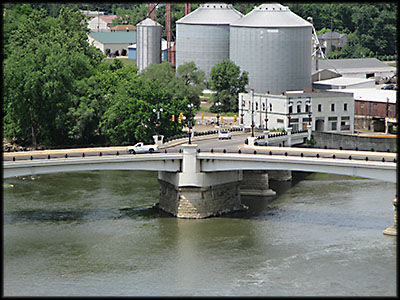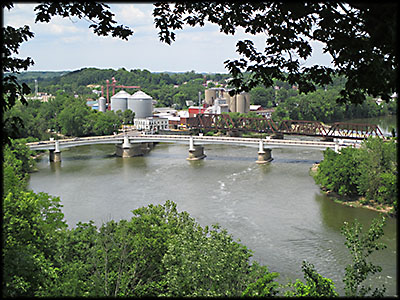 PART 1: The Road to the Museum
It took me three tries to visit the National Road & Zane Grey Museum in Norwich, Ohio. My odyssey began in the fall of 2014 when my mom asked me to drive her down to southern Ohio in the latter half of October to see the Autumn leaves. I decided to go to the Zanesville area for this because I hadn't been there in a long time. Before departing, I looked up local attractions and thought I might like to stop at the National Road Museum while there.
Using Yelp!, I found along our route the Amish restaurant Miller's Dutch Kitch'n in Baltic, Ohio, which we stopped at for lunch. (The restaurant has since gone out of business.) Although neither its exterior nor interior reflected the Amish-style of architecture one would associate with such an establishment, its food was wonderful. Though I call it an Amish restaurant because that's what Yelp! listed it as, I suspect it is run by Mennonites both because the "Amish" working there wear colorful clothing and it has an official website, something the Amish aren't known for.
Our primary goal that day aside from looking at colorful leaves (which we in any case failed to find) was to visit a place called Dawes Arboretum where one can find flowers, interesting landscaping, and a pleasant place to walk. We spent so long there that we lacked the time to visit to the National Road Museum, so I decided would return another day to see it.
This did not happen until the last week of May 2016. For this venture, my aunt asked to come along because she is a huge fan of Zane Grey and has waited longer than forty years to visit the museum. Remembering how tasty Miller's Dutch Kitch'n was, I decided we'd stop there for lunch. This, it turns out, was my first mistake of the day. My new and improved GPS decided the fastest way there was to take me through the back roads of Holmes County where, despite the fact I had it set to avoid them, it took me along unimproved roads, most of them dirt rather than gravel, forcing me to go a maximum of 25 mph. For what seemed like hours we wandered about in an area with no cell phone service and few electric poles. The dust was so thick my car changed from gray to brown. I can't remember seeing a single human in this wilderness.
The only saving grace here is we passed through a little horse town in which I saw a harness and tackle shop. Because no retailer within 100 miles of my house carries a belt made with 100 percent leather, I decided to stop in to see if this shop sold them. When I asked an Amish man working there if they had any, he showed me a rack filled to the brim with them. He also offered to make me one if I didn't like any of them. Overwhelmed with good choices, the one I chose was just $21! I can't imagine Macys, Target, or JCPenny charging that for one.
Another hour's travel after our stop at Miller's Dutch Kitch'n, brought us to the National Road Museum. Much to our horror, we found it closed. This was my second mistake of the day. I had gotten its hours confused with another museum I had planned to visit in the same week. We nonetheless got out to look at the few displays on the ground. While doing this another car drove in. Those within had traveled two hours to get here and were as disappointed as us that it was closed. Their misfortune was our good fortune. It turned out one of them used to live in nearby Zanesville. He told us that his cousin ran the restaurant Muddy Misers Cool River Café there, and it was filled with authentic Zane Grey memorabilia. He also informed us of a park from which we would see Zanesville's unique Y-bridge from far above.
Muddy Misers Cool River Café's staff graciously let look at their Zane Grey displays even though we didn't plan to eat or drink. Items included letters, photos, a gun or two, and all sorts of other things owned by Zane Grey. My aunt loved it; the trip was saved. After that we spent our remaining time in the area at Dawes Arboretum. I later learned Muddy Miser was a local eccentric who served as a father figure to Zane Grey and taught him much about the outdoors.