Ohio History Museum Center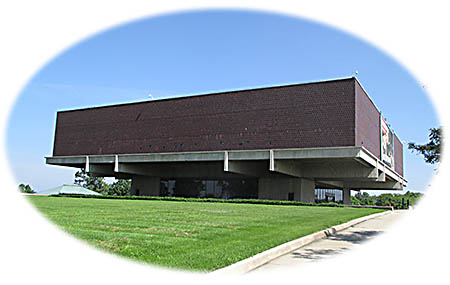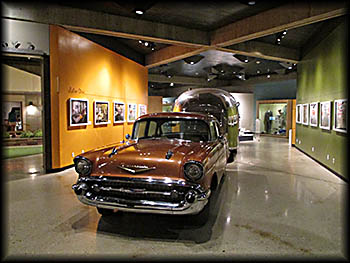 This is one of the livelier
corridors in the museum.
This bass baritone horn
was used in the Civil War.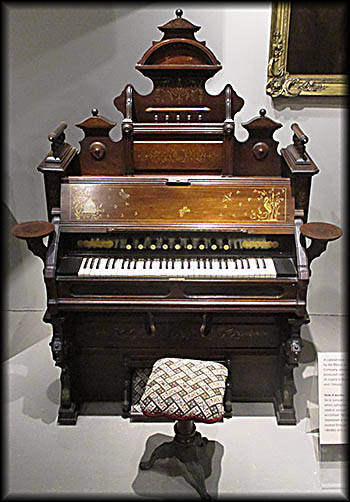 Thousands of cars, a surprising number of them antiques, made their way toward the Ohio History Center Museum, making me wonder just what special event it had planned for the day that could generate such passionate interest. The police directed the duel lines of cars onto a street where we passed through a ticket window at which my travelling companion and I paid $6 for the privilege of parking at the Mapfre Stadium, used for soccer games but closed that day. By the time I found an open spot, it had become painfully clear we hadn't parked for the Ohio History Center Museum as we'd planned, but rather for something completely unrelated.
From where we parked spot I could just see the museum with a pair of binoculars, although I'm sure a telescope powerful enough to view the moons of Jupiter would have worked better. No matter. The road down which we'd come was one-way just now, so there was no going back to park in the museum's own lot. To get to the museum we walked at least a third of a mile, and while it was lengthy, it didn't go too bad. The cars around us moved so slowly little danger of being hit existed.
Once at the museum, we paid a modest entrance fee. Most of the exhibits reside on the first of its three floors, and outside is Ohio Village, an example of a Civil War-era town. I asked the fellow who sold me my ticket what was going on next door. He said it was a "Good Guys" event, which enlightened me not at all. Looking into this when I sat down to write this travel log, I learned that these "Good Guys" and their events are done by the Goodguys Rod & Custom Association, a company that puts on drag races, and when I visited the museum they had a show going on at the Ohio Expo Center that included showcasing antique cars.
The Ohio History Center Museum is the flagship of the Ohio History Connection, a name that sounds more like a history database than the state's historical society, which it is. In fact, its name was the Ohio Historical Society until 2014, a far more appropriate appellation I urge it to return to. From the center the Ohio History Connection directs operations throughout the state for the many sites and monuments it oversees. Or what is left of them.