Patriots Point Naval & Maritime Museum

USS Laffey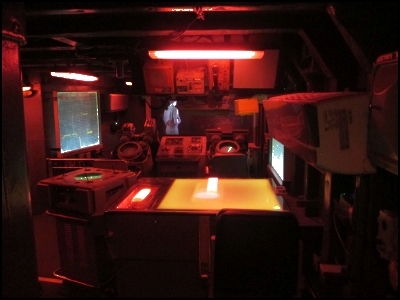 Laffey's Command Center (Radar and Sonar)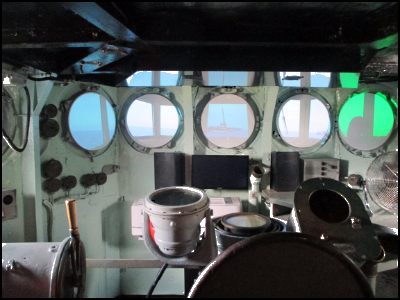 Laffey's Bridge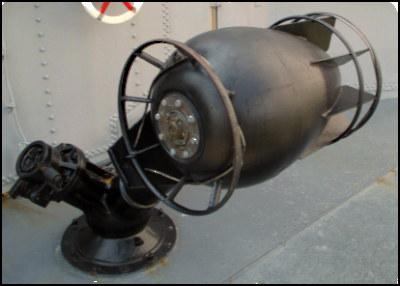 This is a Mark 9 depth charge on the Laffey. It doesn't look much like the cannisters you see in the movies.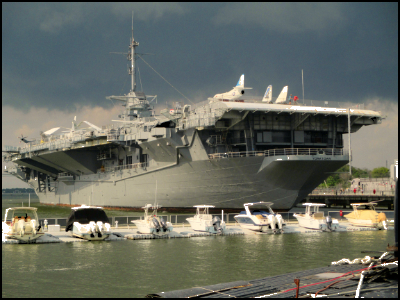 USS Yorktown
As much as I love nautical history and have made it a point to tour any and all marine vessels that I come across, I'd never managed to step foot on an aircraft carrier. Nor, for that matter, had I ever been on a destroyer. And so at Patriots Point Naval & Maritime Museum I was finally able to visit both plus far more than I'd ever expected. In addition to the destroyer USS Laffey, the aircraft carrier USS Yorktown, and the diesel-powered submarine USS Clamagore, there is also the Medal of Honor Museum on the Yorktown's hanger deck and the Vietnam Experience near the museum's entrance.
Touring this museum is not for the faint of heart. If you want to see everything, plan on taking six to eight hours. I went everywhere I could and even by skipping most of the various videos scattered about, it still took me about six hours. If you have any health problems, especially those affected by climbing up and down ladders and stairs, or you have a fear of enclosed places, this is not the museum for you. Also, if you don't like heat, go during the fall or winter. It was in the upper 90s the day I went with a heat index of 105 degrees, and the majority of what you tour is not air conditioned.
My three traveling companions and I started our tour on the Laffey, which was commissioned on February 8, 1944, in honor of the previous destroyer that bore that name that had sunk on November 13, 1942, during the Battle of Guadalcanal. The name Laffey was in honor of Seaman Bartlett Laffey, who earned the Medal of Honor during the Civil War. After her shakedown cruise, the replacement Laffey escorted a shipping convoy to England, then stuck around to support the D-Day invasion. In July she headed back to the mainland United States where she was given a brief overhaul.
From there she sailed to the Pacific, arriving at Pearl Harbor on September 18, 1944, at which she received a dazzle paint scheme designed to make it harder for submarines to get an accurate range on her. (An aside: I've never seen a World War II movie with ships using this form of camouflage, and if anyone knows of one, please let me know.) On April 16, 1945, while serving on radar picket duty off Okinawa, the Laffey showed her stuff. A massive twenty-two Japanese bombers and kamikazes attacked her that day, and of those, three bombs and five kamikazes hit her, killing thirty-two and wounding seventy-one crewmen. Despite the damage, she stayed afloat and became known as "the ship that would not die." Repaired, she returned to active service until being put into reserve in 1947. Brought back for the Korean War, she stayed in active service until her final decommission in 1975.
The Laffey had two rotating 5-inch duel turret guns—one fore and one aft—that fired 38 caliber rounds. It was into the aft gun that my traveling companions entered right after boarding. Within we experienced an interactive simulation of the aforementioned kamikaze attack that included video, crew voices, sound effects, and shaking to give us an idea of what Okinawa was like. Sadly, the turret was hit during that battle and several members of the gun's crew died.
What made this anti-aircraft gun particularly effective was something no other nation at the time had: computer-assisted aiming. This came from the Mark I built by the Ford Instrument Company. When installed in 1944, this analog computer cost $75,000. It resided in control room below deck that had three stations, one for elevation, one for bearing, and one for range. It was with the assistance of this machine that the Laffey shot down almost half the aircraft that attacked her at Okinawa.
With most of the destroyer open to the public, it doesn't take long to appreciate just how dexterous the crew had to be to negotiate the ship's cramped ladders, especially during a rough sea or while under attack. One information sign noted that before the Laffey's class of destroyer—the Allen Sumner—was introduced, sailors on American destroyers going fore to aft could not get from one end to the other without having to go outside at some point, which, during rough seas, sometimes resulted in men being washed overboard while going to their duty stations.