Shaker Historical Museum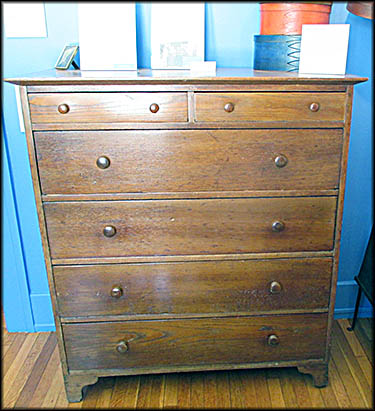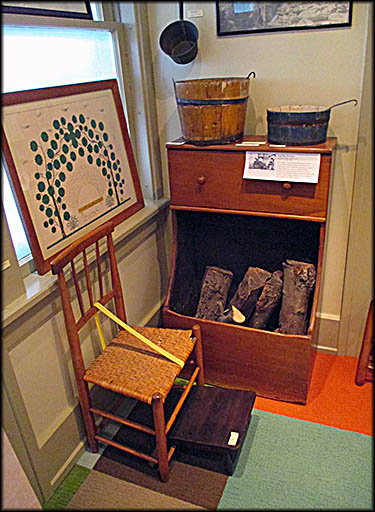 A combination of homemade meatballs, a laundry basket, and a cat led me down that road that took me to the Shaker Historical Museum. The meatballs in question are large: I eat one per serving of spaghetti and make a dozen at a time, then freeze the rest in containers. If I seal a container and throw it into the freezer immediately, the meatballs freeze so tightly together it's hard if not impossible to separate them. I solved this problem by allowing them to cool to room temperature first.
In the days before I had a cat, letting them cool wasn't a problem. But my furry friend is a mistress of problem solving when it comes to getting at food she wants. When she first arrived in my home I protected the cooling meatballs with an upside-down laundry basket on top of which was a heavy book. Undaunted, kitty simply reached through the basket's holes. So I bought a new laundry basket with holes too small for her to get her paws through. Alas, there are those pesky hand holds, and it was through one of these plus quite a bit of pushing that gave her the access needed to extend a claw into the meatballs and pull out tiny pieces. Finally I put the laundry basket on a table against a wall so she couldn't scoot it. A crashing sound alerted me to something amiss and I caught her just about to eat a meatball that had fallen to the floor.
At this point I admitted defeat and thought what I really needed was a pie safe. For those of you unfamiliar with this, it is a sort of cupboard into which people in Nineteenth Century America locked away food to keep animals out. My quest for instructions on making one soon led me to the Shakers, who to this day are famous for their furniture. This in turn peaked my interest in the Shakers themselves. As it happens, there is a museum dedicated to their in Shaker Heights, Cleveland. This being about an hour and fifteen minutes from my house, I decided to visit one cold Sunday.
The only thing I knew about the Shakers was something I recalled reading long ago, probably in a history textbook: because they were celibate, they ran orphanages to produce their next generation. When the U.S. the government shut them down, the Shaker religion died out since celibates can't produce children. When I mentioned this to one of the museum's employees, she explained that this bit of lore was not true. Naturally I had to investigate this further. I'll get to that later.
The city of Shaker Heights began as the North Union Shaker Colony, which was founded by Ralph Russell. He first visited the area in 1811 when it was owned by Connecticut and known as the Western Reserve. The next year he bought some land and built a cabin in what is now Warrensville Heights, just in time for a war between the United States and Great Britain to break out. So far as I can tell, the museum makes no mention of whether or not this conflict affected Russell and his family. The death of Russell's father in 1821 caused him much person pain, and he sought comfort among the Union Valley Shakers residing in Lebanon, Ohio. After spending months with them, he returned home and began, according to one the museum's information signs, "converting his relatives and neighbors" to the religion. He established the North Union Shaker Colony on farmland owned by his family.
The Shakers are an offshoot of the Quakers and originate in England. They were sometimes called "Shaking Quakers" because of their enthusiastic dancing, online examples of which are few and not especially useful. In America they incorporated as the United Society of Believers in Christ's Second Appearance. Though a convert rather than a founder, the most important person in this religion's history was Ann Lee, an illiterate woman born in 1736 in Manchester, England. After bearing and losing four children, she came to the belief she had been punished by God for the sin of sexual relations and began arguing for celibacy, which was adopted by most Shakers. She believed herself to be the female version of Jesus Christ and argued for the total equality of men and women. She moved to America with her husband and seven others in 1774 to establish a community there. Though not especially successful at first, their effort ultimately bloomed and spread.