Stan Hywet Hall & Gardens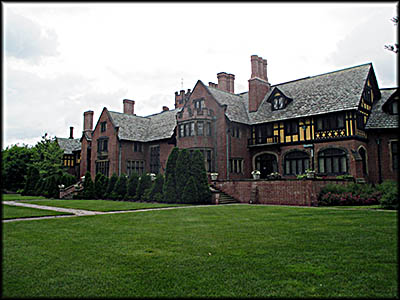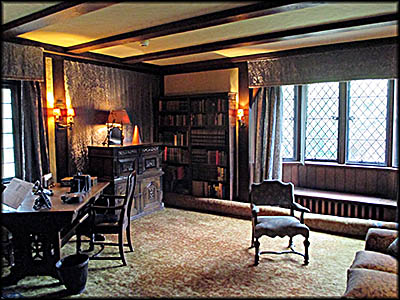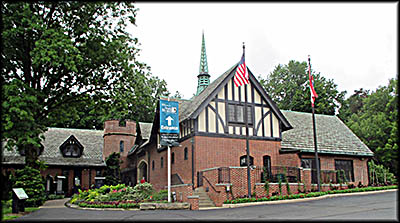 If you've ever wanted to visit an English manor house but can't be bothered to travel to Britain, you're in luck. In Akron, Ohio you'll find a Tudor Revival sixty-five room mansion known as Stan Hywet Hall that comes complete with English and Japanese Gardens as well as a conservatory in which Professor Plumb was not murdered by a wrench. I've never been rich and won't likely be short of marrying a wealthy heiress, so a visit here is the closest I'm ever get to seeing what it's like to be so wealthy that I don't know what to do with all my money.
Having a pretty good working knowledge of famous Americans rich enough to build such a place, I wracked my brain trying to remember who Stan Hywet was, my assumption being the house was named for a person. It wasn't. An information sign said it's an Old English word that means "Stone Quarry," so named because there was once one on the grounds that landscape artist Warren Manning transformed into a place for outdoor recreation that included tennis courts, swimming, and, in the winter, ice skating. At the top edge of the quarry is are two teahouses underneath which is a changing room.
So who did the house belong to? That would be the Seiberling family. If that name doesn't ring any mental bells, the company that Frank "F.A." Seiberling and his brother, Charles "C.W.," founded certainly will. They started Goodyear Tire and Rubber Company in 1898, which was named after the inventor of vulcanized rubber, Charles Goodyear. It was F.A. who drew the winged-foot logo that the company uses to this day. So successful was this venture that F.A. could readily afford to build and maintain his massive mansion, which was constructed between 1912 and 1915. He and his wife, Gertrude Penfield, lived in the house for forty years and in that time hosted thousands of guests, including the von Trapp family and President Howard Taft.
F.A. married Gertrude on October 12, 1887. Gertrude was trained as a contralto opera singer and once sang at a White House state dinner for President Howard Taft, She founded a number of music groups and associations in Akron such as the choral assembly St. Cecilia Society and the Tuesday Musical Club, this last offering concerts on Tuesday afternoons with a focus on musical education. Gertrude and F.A produced seven children, all of whom lived to adulthood. (The museum's Walk the House guide and at least one of its information signs list the number of their children as six, but the Stan Hywet website says it is seven plus it lists their names, so that's the number I'm going with.) Their children in turn gave them twenty-two grandchildren, one of whom, Grace Wenonah, died at the age of seven and a half months. F.A. was a good family man and encouraged his adult children to stay in the house as long they liked. Gertrude and F.A., who celebrated fifty-eight anniversaries, occupied Stan Hywet for forty years.
In 1898 F.A. had an opportunity to purchase a series of empty mill buildings at the bargain price of $12,500, so he snatched them despite the fact he had no idea to what purpose they'd be put to or how he was could to pay for them. Realizing that there was a large pool of laborers who had once worked for B.F. Goodrich Tire & Rubber Company in Akron, which had been in business since 1871, he decided to establish a rubber manufacturer since he could draw a pool of experienced workers. Goodyear's first products included bike tires, hoses, horseshoes, and car tires.
The company needed a product that would give it significant market share and to that end produced the straight side tire. This replaced the inferior clincher design, which was difficult to change without specialized tools and was prone to damage by the tire rim. The straight side tire, introduced in 1905, also allowed more room for air in its tube, helping it cushion the ride of any car using it. F.A. directed employee William Stevens to design a machine capable of mass producing tires. And while the resulting Seiberling Stevens tire building machine worked, it wasn't until its redesign by W.C. State that it made a big difference. With the Seiberling State machine, a single worker could produce sixty tires an hour versus the five when done by hand. Even better, other companies began using it, resulting in about $200,000 a year in patent royalties.