Thurmond and Nuttallburg, WV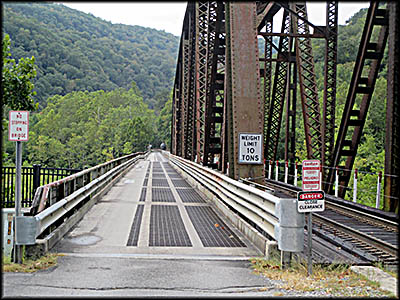 This is the bridge we had to drive over to get to Thurmond. I took this photo after we crossed.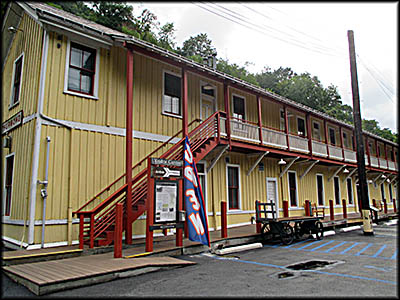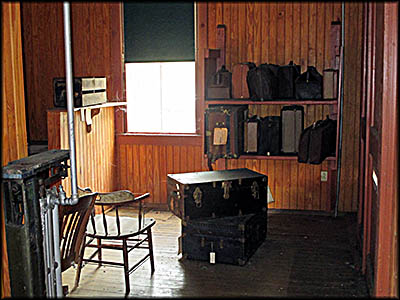 Baggage Area of the Thurmond Depot
Inside the Thurmond Depot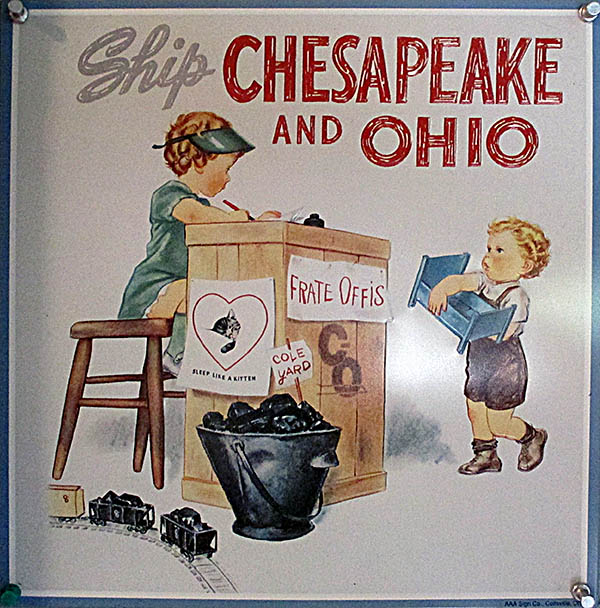 My visit to the West Virginian ghost towns of Thurmond and Nuttallburg was quite unexpected. It began with a phone call from my brother. He asked if I'd like to go whitewater rafting. This being something I'd always wanted to try, I readily agreed. Within a week I paid money to a company called Adventures on the Gorge that hosts whitewater raft trips on the New River as well as the upper and lower parts of the Gauley River. The New River, the easiest of the routes and the one my brother and I ultimately took, cuts through a deep gorge known as the New River Gorge over which is a bridge that is the third highest in the United States that I went over in a car and under in raft.
During the trip my brother and I shared a cabin with four others who were members of his ski club, two of whom I had met just a few days earlier and one at our destination. At the cabin four of us, myself included, stuffed ourselves into a small upstairs bedroom. The next morning I was informed that I had snored so loudly and consistently that one of my roommates fled to his RV to sleep while another went downstairs to escape the noise. It didn't seem to matter at the time, because I was a bit anxious about going whitewater rafting, plus my brother and I would have the cabin to ourselves that night because the other four were doing an overnight trip at the Gauley River. The rafting turned out to be pretty boring over all because although running the rapids is exhilarating, the journey to get from one to the other is not.
The next day my brother and I headed to Thurmond with the plan to visit Nuttallburg afterward. Traveling in an automobile in West Virginia is a peculiar experience. As we followed a truck down a backroad, it suddenly pulled off, let us pass, then began following us. A few miles later we stopped dead when we reached a bridge beside which was a large sign informing us that it was out due to construction. As my brother pulled over and prepared to turn around, the truck zipped right pass us, shooting over the bridge without hesitation. Well, if it was good enough for a local vehicle, it was good enough for us, so over we went.
A few more miles and we stopped at a one-lane bridge that crossed the New River into Thurmond. After a brief discussion as to whether or not it was for pedestrians or vehicles, we decided to drive over it. Considering that I am writing these words, it clearly did not collapse. On the other side we parked at the Thurmond Depot, which is run as a museum by the National Park Service (NPS), which also caretakes some of Thurmond's buildings. Despite the NPS's control, the town is still governed by its five to seven residents from what must be one of America's smallest townhalls, a photo of which can be found alongside this article.