Victorian House Museum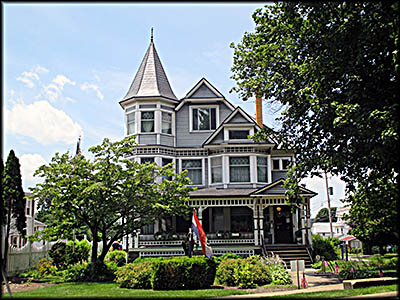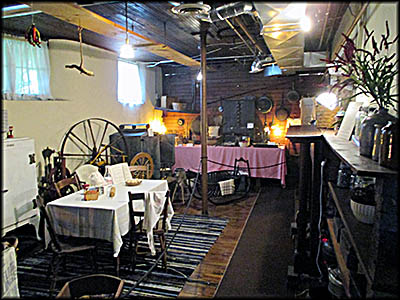 The Victorian House Museum is a large twenty-eight room house once built for Brightman family of Cleveland, which consisted of Latham H. Brightman, his wife, and eight children. Completed in 1901, the house was designed by Cleveland architect Fenimore C. Bate who is known for his Queen Anne-style architecture (whatever that is) and designing Cleveland's Grays Armory. Brighton's new house cost him $10,000 to build, which is about $300,000 today. Latham had this sort of cash because of the success of his business, the Brightman Machine Company in Cleveland. Two years after the family moved in, it left for Cleveland. Latham claimed this was because his business had gotten too big for him to run from Millersburg, but it seems more likely his family, used to big city life, got bored with a rural one and demanded to go back the city.
H.C. Griggs, a partner in the Lee & Griggs Construction Company, bought the house in 1907 for just $8,700. It stayed in the Griggs family until 1971 when the Holmes County Historical Society (HCHS) purchased it for a mere $12,500, hardly much more than what it cost to build way back in 1901. Probably this bargain was given because at the time the house wasn't in great shape. Its very last occupant, Lena Lee, had little money and only lived in two of the house's rooms that were covered in black soot produced by a coal stove. It took the HCHS three years to restore the home to its Victorian splendor.
Those who visit take a self-tour. Most large houses converted into museums that I've visited reserve the basement and top floor for offices and storage, so I was quite delighted to learn both were open here. I was less happy after reading the first information sign I came across on the ground floor in the parlor:
All hand-decorated ceilings have been restored by Winesburg artist, [sic] Alice Hatch. The cove is decorated with original plaster roses in rococo style. Not a petal was missing. The parquet floor is oak with walnut and cherry inlay and each room has a different design. There are four fireplaces in the house, no two alike. The wood here is quarter-sawn sycamore. All fireplace tiles are from Stroke-on-Trent, England. The cast iron interiors are very unusual.
Egad! This isn't history, it's interior design, a topic that interests me not in the least. Most of the first floor was like this, and while I'll admit the rooms are beautiful and filled with impressive antiques, this isn't the sort of thing I wanted to write about for this book. Fortunately the basement was a whole different experience. Here was a cornucopia of interesting historical artifacts such as brass measuring containers used by county agents to check measures by merchants, Mason jars, and a single person sauna cabinet. One exhibit was about the Willie Green Concert Band. Based in Millersburg and started in 1917, its members came from Holmes and surrounding counties. The band performed all across Ohio at patriotic events such as Memorial Day and the Fourth of July. With over fifty members, it played a variety of music that included popular and classical. Its members wore multiple uniforms, the type depending on the style of music they were asked to play.
You wouldn't know it today, but Holmes County was once covered with forests of cherry, poplar, maple, black walnut, and white, red, and black oak trees that were cut down to fuel its considerable lumber industry. Lumbering spawned a number of mills to process the wood, which was shipped elsewhere despite the county's mud-rutted roads. The largest of these mills was the Holmesville Lumber Company that furnished wood for Louisville bats and the PT boats used during World War II. It closed in 1961.
A robust lumber industry meant an influx of lumberjacks and mill workers who worked hard and often wanted to end their day in a saloon. Although Holmes County is now dry, Millersburg once had a row of drinking establishments. Rampant drunkenness across the United States prompted a backlash in the form of the Temperance Movement. One group trying to spread the philosophy of abstinence from alcohol were the Crusaders. In the early spring of 1874, some of Millersburg's leading ladies, hearing about the Crusaders' success in shutting down saloons in Hillsboro, Ohio, decided to do the same in their own town. Prayer meetings on the topic were held in churches and homes. A newspaper account reported that its local leaders were Reverend Badgely, Dr. Bigham, Mrs. John Kock, Mrs. P.B. Leadbetter, and Mrs. Rachel Albertson. Between thirty and forty people attended the early meetings.