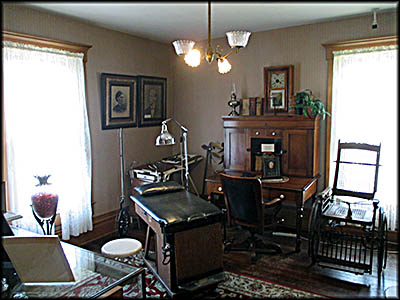 This portrait of Richard P. White is by Silas Ulh. One of his paintings (not this one) can be found on one of the museum's walls.
The Women's Temperance Crusade, the first large scale organization of its type founded and run by women, formed shortly before Christmas 1873 and was launched mainly in small towns in southwestern Ohio and western New York. It soon expanded into at least to 911 communities across the nation's states, territories, and Washington, D.C. Most of its members were concentrated in the Midwest. It succeeded in shutting down many saloons, prompting owners pushed back against the call to close down with arguments that sound familiar today. If you stop selling alcohol, jobs will be lost and tax revenues drop. Forcing saloon owners to shut their businesses down also infringed on their "personal liberty." The National Brewers Association proposed that society should punish those who got drunk and caused problems, and not blame those who sold them the product. Some saw the Crusaders as dangerous to American society itself because women asserting political power challenged the male monopoly. This is one reason why women's suffrage and temperance often went hand in hand.
The Millersburg-based Crusaders asked the saloon keepers to shut their establishments because of the damage it did to society. When that failed to work, they marched down Jackson Street and dropped to their knees in front of each saloon to pray, then sang a religious song. Although threatened with arrest as disturbers of the peace and, in one case, with a bucket of scalding water, they persisted. One saloonkeeper gave in, shut down, then dumped his liquor onto the street. The movement lasted for about two months until people lost interest upon the arrival the village's annual Spring housecleaning. Although the Crusaders collapsed in 1875, from their organization arose the far more powerful and effective Women's Christian Temperance Movement.
As I headed up the stairs to the Victorian House's second floor, I saw four full color nineteenth century advertisements for the Sommers Piano Company. What caught my attention was that they were chromolithographs, a type of printing I've heard of but knew little about despite the fact I work in the printing industry. Chromolithographs are a more sophisticated type of lithography. Lithography was invented in the eighteenth century by Bavarian playwright Alois Senefelder. He wrote his scripts in reverse on limestone with greasy crayons that he covered with ink so he could readily produce copies. Involving the use of chemicals and water, at its simplest lithography is nothing more than an artist drawing on a stone surface in reverse with a greasy material.
Chromolithography, which became popular after the Civil War, uses multiple stones to create a single image. Each color has its own stone. If, for example, you have an image with fifteen colors, fifteen stones would will be used to produce it. It took up to twenty stones to produce the aforementioned ads hanging on the walls of the staircase. Chromolithographs often reproduced works of art so the average American could possess a quality reproduction of a painting at an affordable price. Books with inserted color pages printed in the nineteenth and early twentieth centuries were often chromolithographs.
Also hanging on a wall in the museum is an excellent painting of three-year-old Carlotta Van Evera done by Ohio artist Silas Uhl. The accompanying information sign read in part that fifty-one "of his paintings are on the inventory of American paintings at the Smithsonian Institute." This is a bit is misleading because it implies the Smithsonian possesses all those works. Curious as to which of Uhl's works it possessed, I contacted it and asked. According to Alexandra Reigle, a reference librarian at the Smithsonian American Art Museum/National Portrait Gallery Library, Uhl's paintings appear on the Smithsonian American Art Museum's "Inventories of American Painting and Sculpture" and the National Portrait Gallery's "Catalogue of American Portraits," but the Smithsonian only owns two of his paintings, one of which is a portrait of Lewis Augustus Groff that hangs in the National Portrait Gallery.
That a Uhl painting hangs in a Millersburg museum is not surprising. He was born near this village on June 20, 1841, and grew up in Holmes County. When the Civil War broke out, he joined the Union Army. He spent most of the war in West Virginia. Upon its conclusion, he went to Cleveland to study medicine while simultaneously taking art lessons from Alfred A. Hart. In 1868 Uhl chose art over medicine and opened a studio in Springfield as a portrait artist. He also taught painting and drawing. In 1873 he married Martha Phillips and eight years later the couple, accompanied by their four-year-old son Jerome Phillips, boarded the steamer City of Charleston bound for Europe.
In Paris he studied under several Parisian artists who no one but art historians have ever heard of, and in 1885 was accepted to the prestigious art exhibit known as the Salon. Upon his return to Springfield, he announced his intention to relocate to New York City where better commissions that paid his worth could be had. During his career he painted the portraits of Presidents Ulysses S. Grant, James A. Garfield, Grover Cleveland, and Benjamin Harrison. Although a superb artist, after his death on April 12, 1916, art historians have mostly ignored him. I speculate this is because his realistic paintings, good as they are, are unremarkable when compared to the innovative works of contemporaries such as Claude Monet, Gustav Klimt, and Vincent van Gogh.