Warren G. Harding Presidential Sites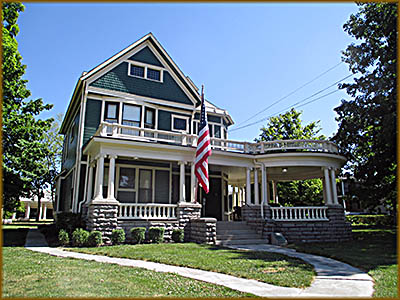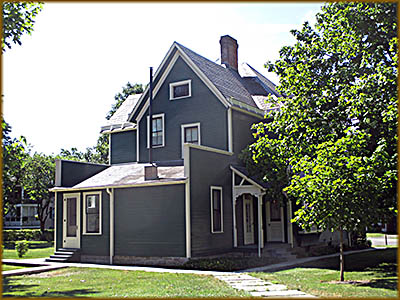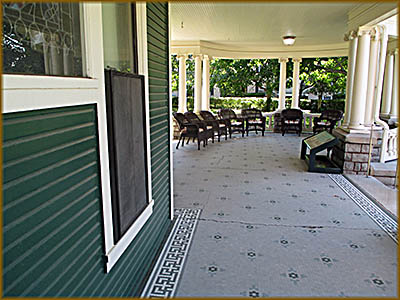 Florence and Warren Harding.
Library of Congress
President Warren G. Harding is probably best remembered for three things: using "A Return to Normalcy" as a campaign slogan, corruption during his administration, and dying while in office. Many historians consider him one of the worst American presidents of all time. Yet shortly after his death, Republican supporters formed the Harding Memorial Association to which Harding's widow willed her and her husband's house so it could be made into a museum. She died the year after Warren. The Harding museum temporarily closed its doors to the public in 2017 so it could be restored to what it looked like in 1920. Beside the house, construction of an accompanying museum/library began in 2019. The result is now known as the Warren G. Harding Presidential Sites.
When I reached Marion to see this updated museum, I discovered something anyone visiting this small city will want to know: it's filled with an overabundance of one way streets. It took me little time to turn the wrong way down one of them, which I quickly realized when I saw traffic coming toward me. About half a block later, I turned onto another street, only to find it, too, was one way and I was still going the wrong direction! I turned into a bank's parking lot and reversed coarse. It was in the nick of time. About a block later I passed a police car.
Harding was born near Blooming Grove, Ohio, on November 2, 1865. His parents moved the family to Caledonia, Ohio, in 1871, where his mother, Phoebe, and father, George, practiced homeopathic medicine. George had previously farmed and been a teacher before becoming a physician. Phoebe, a midwife, focused on treating women and children. According to an information sign in the museum, "homeopathic medicine treats the whole person—body, mind and spirit—with the smallest dose of medication needed to trigger the body to heal itself." The concept came from German physician Samuel Hahnemann. This form of medicine failed to help two of the couple's children, Carolyn and George, who both died on November 10, 1878, of yellow jaundice. A look at what a homeopathic a medicine bag contained in those days shows why. Substances such as mercury and arsenic aren't conducive to good health.
After graduating from Ohio Central College in Iberia, Ohio (now defunct), Warren moved with his parents to Marion. It was while here he met Florence Mabel Kling, the woman he'd marry in 1891. Born on August 15, 1860, in Marion, her parents were Amos and Louisa Bouton Kling. Amos was the richest man in town and gave his daughter all a child could desire. She learned about bookkeeping from working at the hardware store he owned. She was given horses and became an excellent rider. After high school she attended Miss Nourse's School for Young Ladies, now the Cincinnati Conservatory of Music, where she trained as a classical pianist.
At the age of nineteen, she was impregnated by her boyfriend, Henry Atherton DeWolfe, who her father saw as a good-for-nothing. The resulting birth gave her and Henry a son, Marshall Eugene DeWolfe, who was born on September 22, 1880. Florence and Henry had a common law marriage, meaning that they lived as man and wife but lacked a marriage certificate. Amos Kling's assessment of Henry had been right. An alcoholic, he disappeared for weeks on end. He and Florence divorced in 1884. Florence returned home only to have her father forcibly take custody of Marshall—which he never relinquished—and to tell his daughter he wouldn't support her. She'd have to make her own money, which she did mainly by giving piano lessons.
After college, Warren's prospects were uncertain. He dabbled in a number of jobs including law and insurance, but none them turned into a career. Then one of the local papers, the Marion Star, came up for sale at a sheriff's auction, so he and two friends raised some money and bought it for $300. Harding was just nineteen. Turning a failing newspaper into a profitable one is no easy task and for the first few years, Harding struggled to keep it afloat. At one point the bank repossessed the paper's hand-cranked press, so he to purchase on credit a used cylinder press. Although more efficient, it had reliability issues.