Chagrin Falls Museum
Chagrin Falls Museum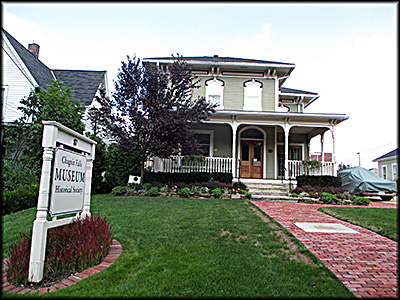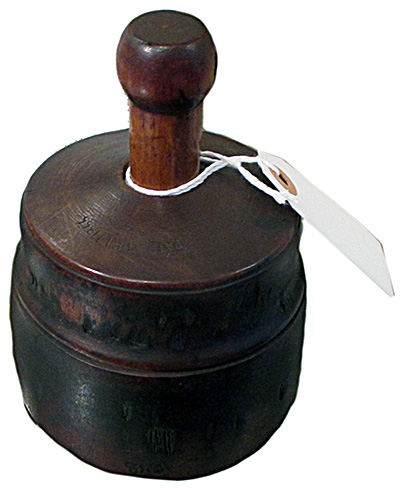 Butter mould produced
by Bullard Woodenware.
The dam used by the Adams Bag
Company was one of nine built
to power water wheels and turbines.
Library of Congress.
Toy bear produced
by Bullard Woodenware.

In Chagrin Falls, Ohio, you will find the Chagrin Falls Museum, a place filled with information about this village's history and artifacts. Chagrin Falls was built on land purchased in 1833 by Noah Graves to take advantage of the Chagrin River. The village grew on both sides the river along which a number of mills and foundries were built. These in turn produced a diverse range of goods that were sometimes exported to Europe, generating immense wealth. Items produced in the village often began their journey to other parts of the state, country and world on the Cleveland, Canton & Southern Railroad, a narrow gage railway that went from Chagrin Falls to nearby Solon. In an age of frequent railroad company consolidations and bankruptcies, the CC&S managed to stay independent from its inception in 1877 until its purchase by the Wheeling & Lake Erie Railroad in 1890.
To provide enough water to power the village's various mill and foundries, no less than nine dams were constructed on the Chagrin River in and just outside the village. These were built between 1834 and 1843, but only two have survived to this day (dams 4 and 6). Dam number 6 was built in 1841 out of stone to power a flour mill. It collapsed not long after its completion when heavy rains caused the impounded water to burst and destroy it, taking the flour mill and the newly constructed Cleveland Street Bridge with it. Despite this auspicious start, the rebuilt dam has stood the test of time.
J.W. Williams & Sons Works (later A.C. Williams), established in 1830, produced iron goods such as sadirons—an iron with a removable handle—and wagon skeins, an iron tube that fitted over the end of a wagon wheel's axle. Starting in the 1850s, the company made the Empire wood burning stove. It also manufactured muffin pans and toys. The Bullard Woodenware factory, established in 1841, made everything from toys to butter moulds. The Enterprise Milling Company dealt in, among other things, feed, salt, coal, concrete blocks, cement, and flour.

Chagrin Falls has, over the years, attracted or produced many artists, one of whom was Henry Church, Jr., whose work can be found in the Cleveland Museum of Art. Born in 1836, he was a self-taught artist. Quite talented, he worked in many mediums, including charcoal, sculpture and painting. He began his working life as a blacksmith, so it ought not come as a surprise that the museum has on display one of his iron sculptures, Dexter, as well an anvil and hammer he used. A pacifist, he avoided serving in the Civil War by purchasing a $300 draft deferment.
He sculpted an image on a rock face that can be seen in nearby South Chagrin Reservation. During that project he headed to the site at 4:00 a.m. each day with the intention of working from light to dark, but as word of his effort spread, onlookers prevented him from ever finishing it. Now called Squaw Rock, what's interesting about it is that Church's original title showed just how forward-looking he was for person of his era. He called it The Rape of the Indian Tribes by the White Man. Eccentric to the end, according to the Cleveland Museum Art's biographical information about him, before his death he acquired a phonograph and "recorded his own funeral speech, an oration that concluded with the line 'Good-bye at present.'"
Artist Henry Church, Jr. made Dexter out of iron.
In the early days of its existence, Chagrin Falls became the victim of bureaucracy. Half of it resided in Geauga County and the other half in Cuyahoga County. Want to transfer your land ownership? You'd have to go to the county seats of both Cuyahoga and Geauga Counties. To fix this issue, the Ohio State Legislature proposed a land swap. Geauga County would trade 900 acres of its land for an equal amount from Cuyahoga County. The swap was made in 1841. Geauga County's Russell Township, which had gained land from Cuyahoga County, felt the swampy land it had acquired was useless, so it gave it back in 1843 without demanding anything in return. Chagrin Falls incorporated the next year.
In the 1920s, African Americans in the thousands decided to head to the North to flee the oppressive conditions they faced in the South. The trouble was that while Northern states weren't as blatant about it, their racism against people of color was equally insidious, explaining why the Ku Klux Klan became active in the area. Despite this, in western Bainbridge Township, Chagrin Falls Park became an integrated community.
In 1927, Clarence A. Crane, the man who invented Life Savers, decided to build a country house and open a restaurant in Chagrin Falls. For this project he bought two houses. One he tore down and the other he added on to. He bought a third house and for $10,000 connected the structures into a single place: Canary Cottage. Here guests could eat, relax, or rent a room to play cards. It attracted the likes of Will Rogers, John D. Rockefeller (who had his own table), and Charles Lindbergh.
So how did such prominent people even hear of this restaurant located in a relatively unknown Ohio village? Crane could thank Duncan Hines for that. Yes, Hines was a real person and not an brand construct like Betty Crocker. From the 1935 through the 1950s, if you wanted one the best restaurant travel guides for the United States, you purchased Hines's book Adventures in Good Eating for the Discriminating Motorist.
For many years before its publication, he spent much of his time on the road as a traveling salesman selling paperclips and letter openers. During his many sojourns, he found that bad food was a problem when it caused indigestion or, worse, food poisoning. During the era in which Hines did most of his traveling, food safety wasn't a thing, so he carried a journal with him in which he recorded many details including where he ate, what was served, what times a given place was open, and whether or not it had air conditioning. Before sampling the cuisine of a new eatery, he first made sure it looked clean and that a pleasant smell wafted from it. He often visited the kitchen after finishing his meal, and sometimes looked at an eatery's garbage pile!
Crane Cottage Sitting Room (Postcard)
Chagrin Falls Historical Society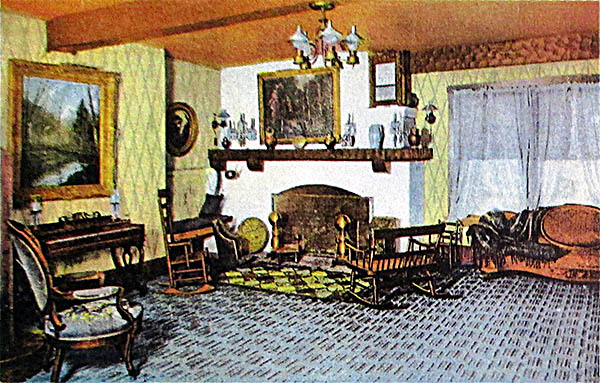 In 1935, he put together a list of 167 restaurants in thirty states plus Washington, D.C., then sent it out as part of his annual Christmas card. He figured this would stop people from calling and pestering him for advice where to eat. Instead they asked for copies to give to their friends and family. So at the age of 55, he published his first version of Good Eating for the Discriminating Motorist that contained almost 300 places. It sold for one dollar.
After the first edition sold out, he raised the price to $1.50 and kept it there for the next twenty-five years. He abandoned his job as a salesman, then dedicated his time to visiting eateries across America so he could update his book. He always paid for his meals and accepted no advertisements. In the 1950s, restaurants with Hines's recommendation proudly put up signs advertising that fact. He commodified his name at the age of seventy-two when he and partner Roy H. Park founded Hines-Park Foods with its offices in Ithaca, New York. This venture would only put Hines's name on quality food. At the age of seventy-six, Hines sold the company to Proctor and Gamble.
A truly unusual home restaurant, furnished throughout with antiques. Log-burning fire-places, comfortable lounging rooms with fine oil paintings; pretty gardens and trees, it is a delightful place for a luncheon or dinner—with food and service you will remember with pleasure. Their specialties are steak, chicken, lamb, sugar ham, duck and salads. Reservations not required. No rooms available. And no liquor! Doubt if you will find more delicious food in the Middle West. Prices from $1.35 to $2.50.
In 1930 Crane married his restaurant's hostess, Bessie Meachem. When he died the next year, Bessie kept the place going until 1942 when World War II shortages caused her to close it. A few years later she and her second husband converted the premises into an antique shop that operated in the 1950s.
🕜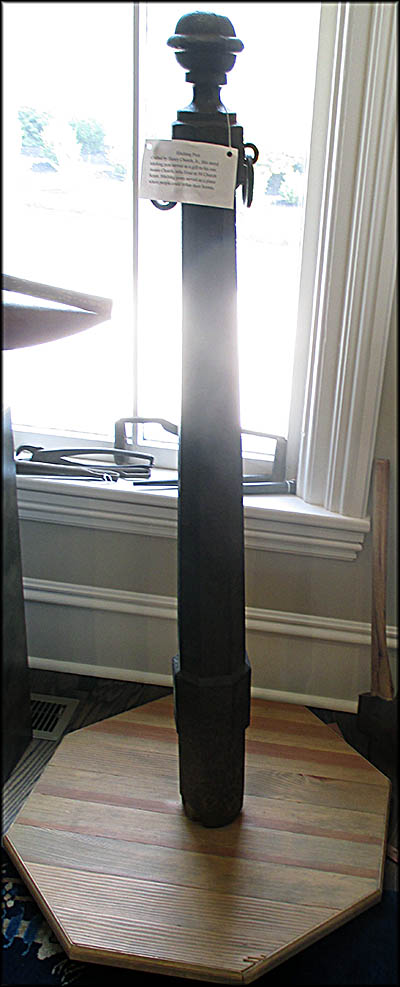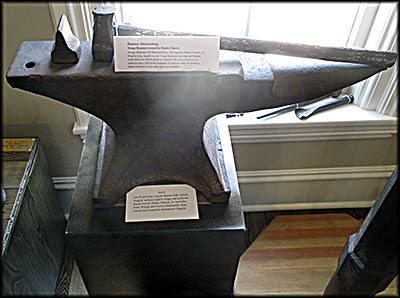 This anvil and hammer
belonged to artist Henry Church, Jr.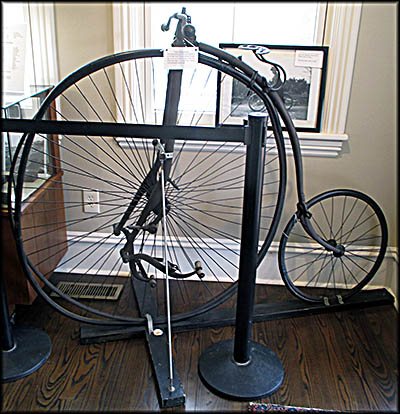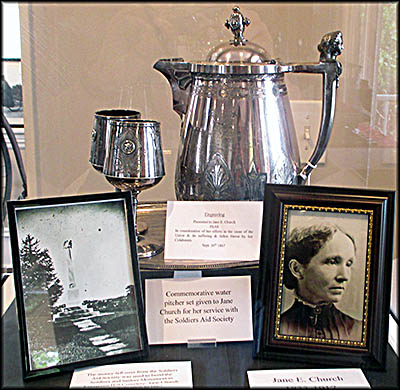 This silver picture was a given to Jane Church from the Soldiers' Aid Society as a thanks for her work with wounded soldiers during the Civil War.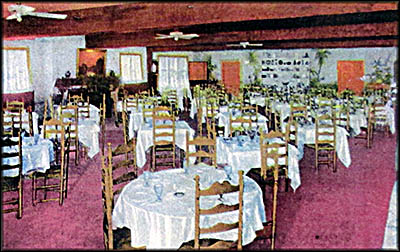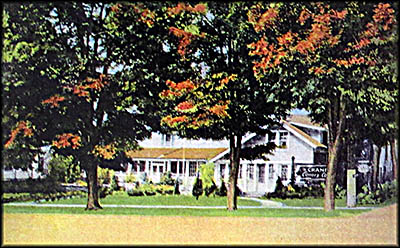 Crane Cottage (Postcards)
Chagrin Falls Historical Society
It was Hines's review of Canary Cottage that made it famous across the United States. The 1936 edition's review read: