Firelands Historical Society

Firelands Historical Society and Laning-Young Research Center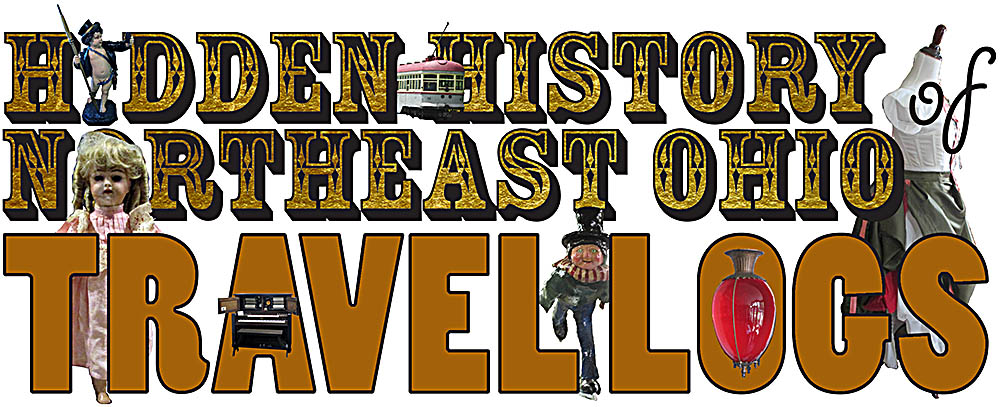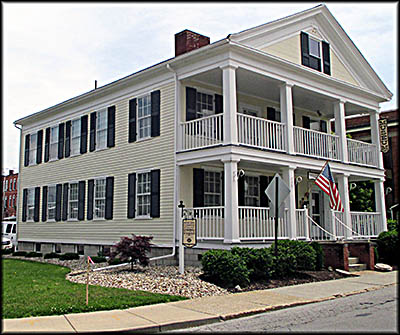 Start your museum tour at Wickham House.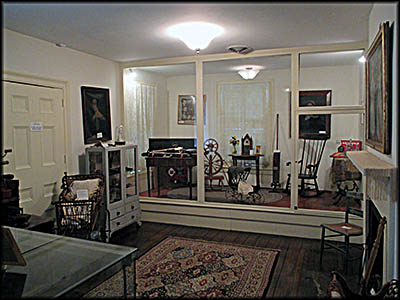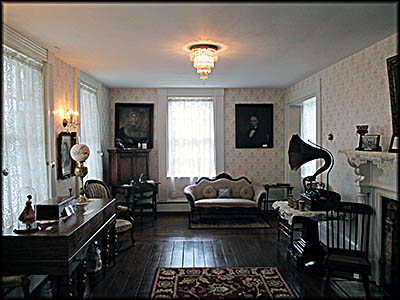 I'd repeatedly walked past the historical Wickham House to reach the Norwalk Public Library and always considered visiting but, just like locals do all across the world, I never got around to it until I finally started work on my book Hidden History of Northeast Ohio. It and the Laning-Young Research Center across the street comprises of a museum run by the Firelands Historical Society. From the outside, the house doesn't look especially large, so I figured it wouldn't contain all much. Within I'd see the sorts of things one usually finds in a small town historical society such as clothes, photographs, antiques, and at least one piano or organ.
I did find those things here, but it held a collection far more extensive than I'd ever imagined, including one of the most inclusive and impressive assemblies of historical firearms I've ever seen. Its exhibits had the same quality one might in find in the Smithsonian's National Museum of American History, not an easy thing to achieve on a limited budget. Then again, according its website, it's Ohio's oldest museum, so maybe I shouldn't have been so surprised about the treasures it has amassed.
There are no guided tours. The person who sold me my ticket told me he disliked those because what I might find interesting could be completely different than what a guide might talk about. Every item is labeled with plenty of information, so nothing is lost with a self-tour. There are three floors packed with interesting artifacts, yet it never seemed cluttered. One item worth noting is the double base viol on display. Not having ever seen one in person, I could not believe just how large this instrument is. This particular one was made by J.B. Allen in Springfield, Massachusetts, in 1842 with special strings imported from Italy. It was once owned and played by a musician from Connecticut named Palmer Gallup. He accompanied his church's choir with it. At the age of seventy he played in it in an orchestra that performed at the eight day long 1872 World's Peace Jubilee and International Musical Festival held in Boston, which celebrated the end of Franco-Prussian War.
When I lived in Monroeville, located a few miles west of Norwalk, I often passed by a mostly derelict factory whose original purpose was unknown. Thanks to a photograph I saw in the Wickham House, I now know it was originally a woolen mill. For a time it became the home of the Edna Organ and Piano Factory, a company that started in Massillon. It sometimes seems that no self-respecting historical society is without at least one piano and organ, and I've never visited a historical society's museum without at least one of these instruments. This was because from the mid-nineteenth century to the early twentieth if a household could afford it, they would have one or both. After all, in the days before radio and television, the only way a family was going to hear music in their home was to produce it themselves.
So why did Americans choose the piano and, to lesser extent the organ, over, say, the violin or bassoon? During the American Revolution few colonists had a piano, but by the 1820s cabinet makers were building them domestically, mostly in the Northeast. One cabinet maker who went into the piano making business was Jonas Chickering. I saw examples of his instruments in the McCook and Spring Hill Houses.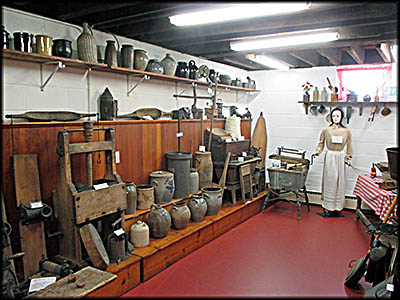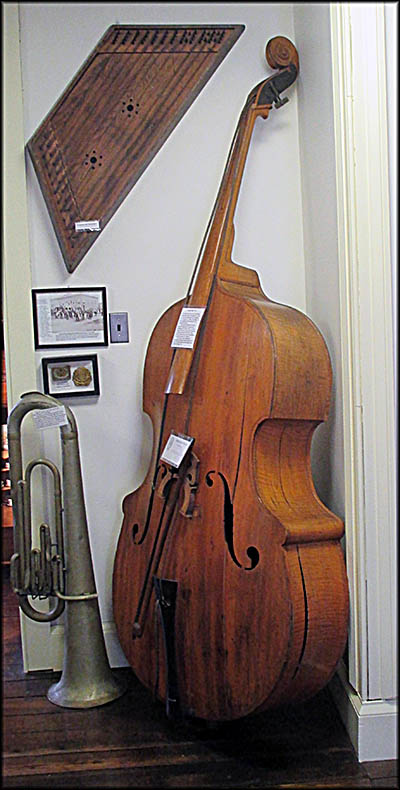 This double bass viola was made by J.B. Allen and once belonged to Palmer Gallup.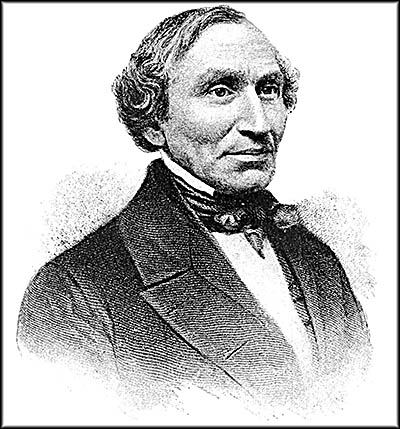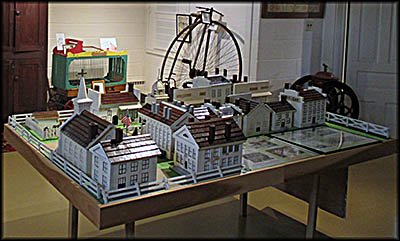 This beautiful model can be seen in Wickham House.
Chickering, who was born on April 5, 1798, in Mason, New Hampshire, first encountered a piano while an apprentice. This he repaired through trial and error. By that point he had learned the clarinet and fife, and when he moved to Boston in 1818, he joined the Handel and Haydn Society, a choral group. In 1819 he decided to pursue a career in piano making by going to work for John Osborn. In 1823 he and coworker James Stewart departed to open a shop of their own. Chickering was hard on partners. Stewart departed in 1827. In February 1830 Chickering partnered with John Mackay, a Boston sea captain and entrepreneur, but he disappeared at sea in 1841. Next was Mackay's son, William H., but that didn't last long, either, and after 1841 Chickering went solo.
In 1840 he patented the iron-frame piano and followed that up in 1843 with an iron-frame grand. It is likely that one of employees, Alpheus Babcock, came up with the idea. The addition of the iron frame gave the piano advantages it previously lacked. For one, it allowed for tenser strings. It also coped better with America's weather extremes—roasting in the summer, arctic in the winter—that would otherwise have thrown it out of tune.
Pianos remained the instrument of the American elite until William Wallace Kimball got into the business of mass producing them. Born in 1828, he was a native of Oxford County, Maine. After high school he briefly attended a teacher school, then decided to focus on business. In Boston he joined a mercantile house as a clerk, then was promoted to traveling salesman. A visit to Chicago made him see its possibilities, and in 1857 he settled down and became a piano dealer, a business he grew into the largest of its type in the West.
In his youth he lived along the Cuyahoga River in Ponty's Camp, named after Native American war chief Pontiac, located a few miles down from and on the opposite bank of Old Mingo Town in which James Logan (whose Native American name was Soyechtowa or Tocaniadorogon) lived. Details of Ogontz's early life are uncertain. One source says that his father was converted to Catholicism by a Jesuit priest, and so taken was he by this religion that he sent Ogontz to a Jesuit school in Montreal to be educated with the goal of his becoming a Jesuit priest. A second origin story says that as a boy he was captured near the top of Lake Huron and taken to a Jesuit school where he learned English and French. He was sent back home to become a missionary to his people in a settlement he founded, which is the forerunner of modern Sandusky. It is unlikely Ogontz was a priest or Christian missionary, and just as doubtful he was Catholic.
His refusal to consume alcohol caused him to unintentionally become a tribal chief. During a celebration at John Fleming's trading post on the east bank of the Huron River about three miles from Lake Erie, Ogontz's predecessor called him a "squaw" and "white heart" for not drinking whiskey like everyone else, then slapped him in the face. With a war whoop, Ogontz cleaved the chief's skull with a tomahawk, causing him to fall over dead.
Ogontz was imprisoned in a wigwam to await judgement. Fortunately for him, by the time the council and Fleming decided to pass judgment, its members had sobered up, so after much debate and pipe smoking, they decided that killing was justified. But to balance things, Ogontz would become the new chief by marrying the old one's widow and adopting her son. Realizing his people's power had been broken by whites, Ogontz made peace with them and made sure if any of his tribe did them harm, they were punished. He treated his stepson as his own, but supposedly the boy killed his stepfather in a wigwam to avenge his biological's dad's death. Ironically he did so with a new tomahawk Ogontz had just gifted him along with a gun and scalping knife. Another source says the boy killed Ogontz during a hunting trip.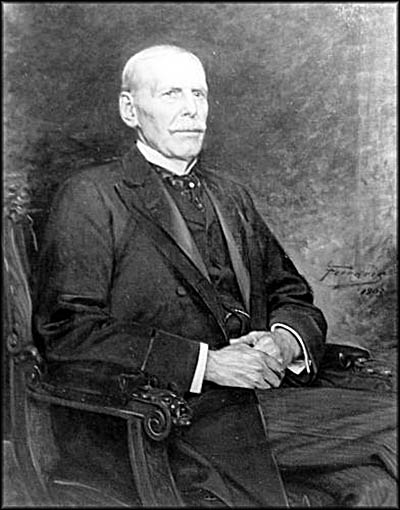 Here Chief Ogontz's likeness was appropriated to sell cigars.
He formed a salesforce with the directive to sell pianos to farmers settling in the West. At first farmers, even wealthy ones, showed little interest in purchasing them, so Kimball's salesman started going straight to their doors and targeting their daughters. Knowing that it was believed that daughters who played the piano had a better chance of snagging a good husband, this strategy worked and made Kimball fortune enough for him to become one of Chicago's millionaires.
In 1881 he started mass producing organs. The next year he incorporated his business as the W.W. Kimball Company. In 1887 it began mass producing pianos for a cost far lower than the hand-crafted version but with a nearly equal quality of sound. Kimball realized the average American couldn't tell one piano from the next, so a lower price would be key to making his best selling. Other American firms followed suit and by 1896 the five largest piano makers in the world were American.
Another thing that made pianos popular was the fact that public schools added music reading to their curriculum. In 1886 about seventy percent of schools offered music classes, and the next year someone estimated that there were about half a million pupils learning to play the piano. The number of pianos in homes between 1890 and 1900 jumped by over five times faster than the population growth, and by 1900 Americans owned about a million of these instruments. This was in part because of the influx of immigrants. All these pianists needed music to play, and the American music publishing industry was happy to provide it. Low cost sheet music became big business. Hundreds of music publishers existed by 1890. Between that year and the turn of the century the number of publishers increased from fourteen to twenty-two in New York City alone, while the combined value of their publications more than doubled.
One historical artifact on the Wickham House's second floor made me cringe. Here stood a full size wooden "Indian" with cigars in his hand. For many years it stood outside of Norwalk's Haas & Zipfel Store, and now it's where it belongs: a museum. This figure, carved around 1860, was no generic Native American but rather a sculpture of Ottawa chief Ogontz, whose name few if any will recognize today but whose life is worthy of remembering and outlining.
Those interested in Native American artifacts will want to cross the street and visit the Laning-Young Research Center in which one will see hundreds if not thousands of mostly prehistoric Native American artifacts complete with two life size representations of a ancient people accompanied by one of the most uniquely worded information signs I've ever read: "These Native American life-forms represent what an Archaic Period Native American would have looked like living in the fields and forests of present day Erie and Huron County some 5[,]000 years ago."
Also here are the bones of a giant sloth that were radio carbon dated as between 13,735 and 13,438 years old. They were found by Roe Niver in the Niver Bog located in Huron County's Norwich Township. Giant sloths could be up to ten feet from head to tail and weigh up to 2,000 pounds. They used sharp claws to strip twigs and leaves from trees for food, or to dig for roots. This particular sloth became someone's meal. Its bones show marks of being butchered by human tools.
In the same building one can see a carriage made by Lawrence Fisher, who in 1880 open a shop on Norwalk's Benedict Avenue. His seven sons eventually founded the Fisher Body Corporation in Detroit, which was absorbed by General Motors. Also in the same room are a good number of old farm tools and a mural farm scene painted by local artist Joe Mak titled Summer Day. Historical societies are not always known for the good taste in what pieces of art to put on display—some of it is just plain awful—but this one is a true masterpiece. It shows a young boy enjoying a summer day on a farm. Mak donated the sixty hours it took to complete this work to the museum. Had he charged for it, it would have cost about $6,000.
🕜