Guernsey County Historic Museum
Guernsey County Historic Museum

Guernsey County Historic Museum
Martha Sayres' gravestone was found far away from the original grave, which is lost.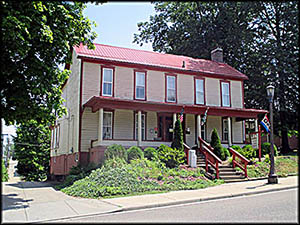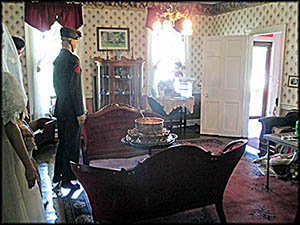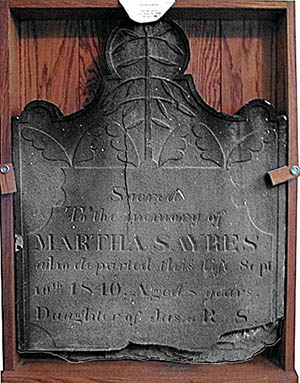 From Jersey the budding pioneers sailed to America on a ship commanded by a Captain McCrandal. During the crossing a French cruiser began pursuing them. Ready for something like this, a canvas was lowered to cover up the ship's name with "The Eliza of Boston." The French fell for the ruse and the ship made it safely to Norfolk, Virginia. From here the Sachet party headed to Baltimore. Upon departing from that city on June 16, there was a total solar eclipse, which had no bearing on anything but might well have been seen as an omen. The party made a long and difficult journey to Cincinnati and from there to the newly established town of Cambridge, Ohio, where the Guernsey County Historic Museum is located.
It is in a house that was built by William McCraken Clark in 1827 and later moved by the McFarland family to its present location at which point it was turned ninety degrees from its previous orientation. The house has no closets because when it and its addition were built, property taxes were assessed by the number of rooms you had, and closets counted as rooms. So instead the family used wardrobes, a poor substitute that lack the capacity of a big closet.
The museum's oldest artifact is a baby cradle bought from the Island of Guernsey. Other items of interest are the chair President William McKinley sat in during his time in the State House of Representatives of Ohio, photos signed by Presidents George H.W. Bush and Ronald Reagan, a nurse's uniform used during World War II from nearby Fletcher Hospital, a room filled with historic women's dresses including a manikin with a partially caved in head and one with a broken neck, a hammer used in the making of the National Road, and an original Mitchell Map, the one used by the British and Americans to set the border between the United States and Canada during the peace negotiations in Paris after the Americans won the Revolution.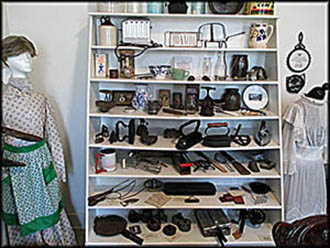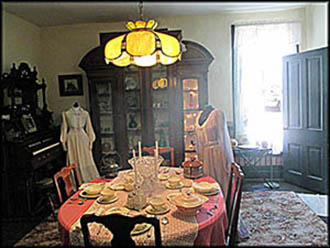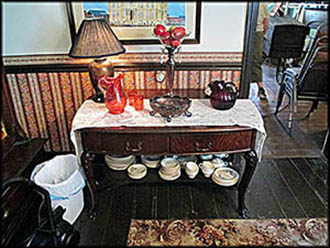 Guernsey Country wasn't named after the cow. Rather, the cow was named after the place where it was first bred, the Island of Guernsey. This Channel island has a long and convoluted history. During the Napoleonic Wars, the British used it as a staging area for its troops, forcing the island's population to give them provisions. Here, too, the Royal Navy had a habit of impressing men into service. Having had enough of this and being opposed to the war besides, in May 1806 Thomas Sachet along with his brother, Peter, and a brother-in-law, Daniel Ferbrache, gathered their family members up and boarded a fishing smack bound for the island of Jersey (the source of the name for yet another type of cow). The pernicious Royal Navy stopped the smack during her voyage and boarded to impress anyone worth taking. Two passengers bound for America but not part of Sachet's party, the Simmons, were pressed. Upon landing on Jersey, Thomas went to the island's governor and secured their release.

In one of the museum's seventeen rooms is a faux coal mine made by David Adair that you can pop into and take a look at. Coal mining brought more wealth to Guernsey County than any of its other industries, and at one point the county had seventy-seven of them. There were around 5,000 men (plus women and children, though they're rarely counted) working in the mines during their peak years of activity. Today all the mines are shut down, in part because they flooded but also because the coal found here has so much sulfur in it that few want to burn it. Mines in the county were 54˚ F year round and quite dangerous to work in. If a cave-in didn't get you, poisonous gas or explosions might. Or you may well have avoided a violent death only to die of black lung, not the way anyone wants to go. During a sixty year period 382 miners were killed and an unknown number were crippled in the county.
Another of the county's industries was Universal Potteries, which operated in Cambridge from 1934 to 1954 making high quality tableware. Cambridge Glass Company was also in Cambridge. Although the factory building was initially owned by the National Glass Company, Cambridge Glass was itself was relatively independent. It started operations in 1902 and created its first original line in 1906. A year later National Glass went into bankruptcy but Cambridge Glass remained unaffected and eventually became totally independent. It ran until 1954 when its owner decided to close down. A new owner took over, but by 1960 the factory was shuttered for good. Cambridge Glass wares can be found in the museum, but for those of you who can't see enough of this sort of thing, you can visit the National Museum of Cambridge Glass, which is also in town.
In one of the museum's rooms I saw the large grave of Martha Sayres, a girl who died on September 10, 1840, at the age of eight. Were such an early and untimely death not bad enough, her grave is lost. Her gravestone was, according to the accompanying information sign, "found along side [sic] a county road in Jackson Township in the early 1970s," and for a time it resided in the Guernsey County Sheriff's office. Had it not been found when it was, chances are it would have disintegrated into pieces by now.
There are certain items you are almost guaranteed to see in any historical society's museum that covers the nineteenth century, and a spinning wheel and yarn winder are among them. I long ago stopped taking photos of these items because once you've seen one, you've pretty much seen them all. But the person who gave us a tour of the museum taught me something about yarn winders I never knew. Often attached to them was a box called a weasel that made a popping sound every 120 turns to alert the spinner it was getting full. This is where the phrase "pop goes the weasel" comes from.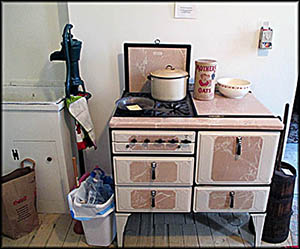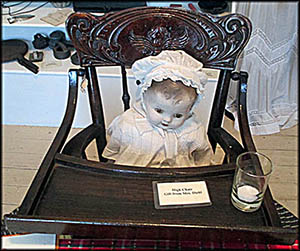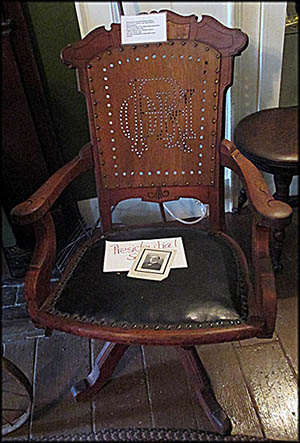 This is the chair President McKinley sat in when he was in the Ohio House of Representatives.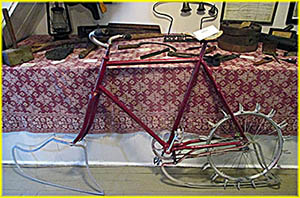 Another item on display was a print of the USS Shenandoah, a U.S. Navy airship that crashed in Noble County but left debris scattered all across Guernsey County. Witnesses first noticed it hovering over Cambridge on the morning of September 3, 1925, at around 4 a.m. For about forty-five minutes she struggled against a fierce electrical storm with exceptionally powerful winds. She had come from Lakehurst, New Jersey, and was headed west when the storm caught her. The wind broke her into three pieces.
Her captain was Lieutenant Commander Zachary Landsdowne from Greenville, Ohio. He along with twelve others the control cabin were killed, but amazingly others survived, including Colonel C.G. Hall and Franklin T. Masters. Masters said he had left his station at the wheel in the control cabin at 4:30 a.m. and headed to the keel to get some sleep. The storm woke him at 5:15, so he headed to the Number 1 car in the ship's nose to watch it. Not long thereafter the ship broke up. Lieutenant E.E. Rosendale took command of the drifting remains of the nose and managed to land it safely by controlling it like a hot air balloon.
🕜