Invention of the Portable Vacuum Cleaner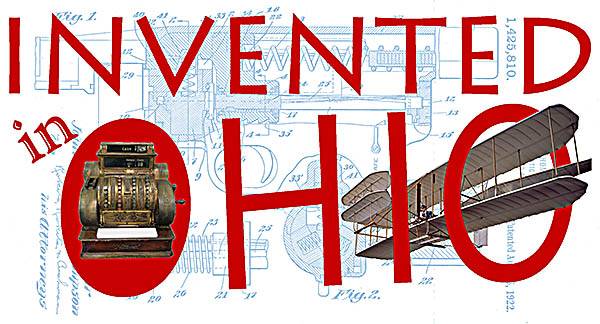 INVENTION OF THE PORTABLE ELECTRIC VACUUM CLEANER
Copyright
©
2022 by Mark Strecker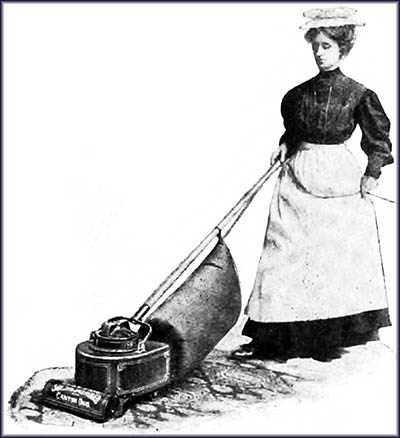 Electric Suction Sweeper. Iron Age. August 6, 1908.

Digitized by Google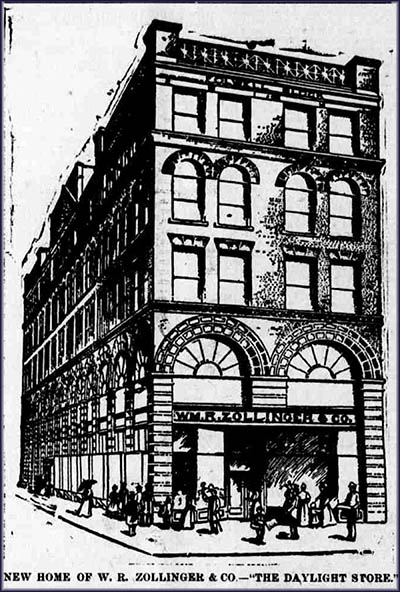 The Folwell Building in Canton, Ohio, served as the home for the Zollinger & Company department store. It is where the portable vacuum cleaner was invented.

Chronicling America. Library of Congress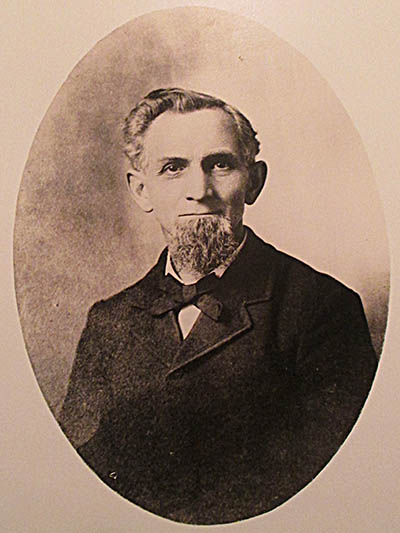 James Murray Spangler

Hoover Historical Center
This is the vacuum cleaner that Spangler sold commercially before William H. Hoover invested in the company.

Hoover Historical Center
Throughout his life, James M. Spangler worked a variety of jobs interspersed with creating an invention or two that never made him rich. Born on November 20, 1848, in Pennsylvania's Plain Township, as a boy his parents moved him and his eight siblings to Stark County in Ohio. Spangler married Elista Amanda Holtz on May 21, 1874, and the two moved to Akron in 1880. Here Spangler worked as a salesman, first for his brother, then for the Aultman Company. At some point he moved to Canton.
His inventions included an improved grain harvester, a combination hay rake and tedder—the former cutting it and the latter loosing it up so it dried faster—and a velocipede-wagon. This last invention resembled a toy wagon into which you put children, except it had four bicycle wheels, the front ones being smaller than the back. Steered by a tiller, a person riding in it put it into motion using a foot crank. Other than being a bit of novelty, its usefulness was limited.
A sweet man who everyone liked, by 1907 Spangler had fallen on hard times and took what he considered a temporary job as a night shift sweeper for the Canton department store W.R. Zollinger & Co., which was in the city's Folwell Building. Opened on September 27, 1900, the building was five stories tall with a basement. It had been designed by architect G.F. Hammond and was named after its Philadelphia financiers, W.H. and W.T. Folwell. The W.R. Zollinger store occupied the basement and first two floors. The third and fourth floors contained offices, and the fifth was occupied by the Elk's Club.
There were a variety of ways to clean carpets in those days. One book from this era recommended sprinkling wet tea leaves and using a wet flannel mop to clean them up. Freshly cut grass and cutup pieces of paper might also do, the idea being that the dust would stick to these additives. In his 1913 book Vacuum Cleaning Systems, author M.S. Cooley argued that most mechanical sweepers of the day only took up a portion of the dust and were useless on hardwood floors. In the 1908 book Household Discoveries, writer Sidney Morse came to the opposite conclusion, suggesting that a mechanical cleaner resulted in the less wear on the carpet and was far easier than using a broom that would soon wear out.

For cleaning carpets, Spangler used an industrial strength mechanical floor sweeper made by Bissel, although powered vacuum cleaners did exist at the time. In 1902 David T. Kennedy, for example, installed one in Pittsburgh's Frick Building that used compressed air to create the vacuum that sucked the dirt. The compressor mechanism was stationary and its vacuum power accessed via tubes. Existing movable powered vacuum cleaners were too large to be of use for a single household.
The mechanical Bissell that Spangler used stirred up so much dust it gave him asthma, causing him terrible coughing fits. He decided to make it easier to push the vacuum easier by using a fan motor to power the brushes, but this still kicked up too much dust. Further modifications were needed. He placed a fan blade in a soapbox above the brushes to suck up the dirt, which was pushed into a pillowcase. His machine worked as intended and his asthma subsided.
He drew a schematic and went to his patent attorney, Mr. Bond, to submit it to the U.S. Patent Office. Bond thought little about Spangler's newest invention but sent it along all the same. Filed on September 14, 1907, the patent was granted on June 2, 1908.
It ought to be noted that giving Spangler credit as the inventor of the first powered portable vacuum cleaner could be disputed. Vacuum Cleaning Systems credited Doctor William Noe of San Francisco as the person who invented the first portable vacuum cleaner and provided a photograph of the machine. Noe's vacuum cleaner, Cooley wrote, was invented around 1905 and built by the Electric Renovator Company in Pittsburgh. It was marketed as the Invincible. Electric Renovator did produce such a machine—the one shown in Cooley's book—but the earliest mention of it the author of this work could find was an ad from 1908.

Spangler went looking for investors. He figured he'd need to raise $50,000 to start a company to manufacture his new invention, but in the end was able to come up with a mere $5,000. He secured that only because Ray Harned, nephew of the Folwell brothers, saw Spangler using his new machine at work and thought it looked promising. Harned took it to Philadelphia to show to his uncles. They agreed to invest in the venture. Spangler and Harned formed a partnership called the Electric Suction Sweeper Company. Spangler would build the vacuums while Harned sold them. Spangler and one of his sons, Clarence, began making them in an old building on Rex and 3rd Streets in Canton. Spangler's daughter, Jennie, sewed the dust bags.
Spangler's vacuum cleaner received a small blurb in the August 6, 1908, magazine The Iron Age that reported, "It is pointed out that the device is so simple that it can be operated by a child, as the electric current does the actual work. The sweeper is readily attached to any light circuit by a reinforced cord." The trouble was no one wanted one, or at least not enough to keep the company going. Spangler needed more investors.
About fourteen miles north of Canton stood New Berlin, now known as North Canton. Here William H. Hoover had his own concerns about sales. Born in 1849, Hoover had immigrated to the New Berlin area from Pennsylvania while a child. In the years during which he grew up, farming families such as his rarely allowed their children to attend school for long because they needed their help at home, but Hoover bucked this trend by finishing high school. He attended Mt. Union College in Alliance, Ohio. While there, he also taught at a nearby school.
Hoover met with Spangler several times. The contract signing occurred on a hot summer day on Hoover's front porch where lemonade was served. It was August 5, 1908. For his investment, Hoover would become the company's president and treasurer. Spangler would oversee his machine's production and receive royalties for his patent. Hoover renamed the company the Hoover Suction Sweeper Company, shortened to the Hoover Company in 1922. The first vacuum sold under the new name was the 40-pound Model O that looked more like a science fair project than the modern machine we know today. It cost $60 (about $1,809 in 2022's dollars) with accessories for an additional $15. The company sold over 2,000 units in 1909.
Spangler never enjoyed the success the Hoover company would see. Right before heading for a vacation in Florida, he died of a heart attack on January 22, 1915. He was 65. The Hoover Company continued to pay royalties to his family until Spangler's patent expired on June 25, 1925.
🕜
At tHooverhe age of 20, he partnered with his brother, Joseph, to buy out their father's tannery. Two years into the venture, Joseph left for school to study engineering, leaving William as the sole proprietor. He bought another building to make a horse collar, the Perfection, which was so good it became the gold standard in the area. Other leather goods Hoover's tannery produced included dog collars, leather jackets, and cartridge belts. His employees affectionally called him "Boss" Hoover." Realizing the automobile would soon overtake horses for personal transportation, Hoover began making car parts such as belts, but he knew this wasn't sustainable. He needed to invest in something new.
There are two competing narratives as to how Hoover was introduced to Spangler and his portable vacuum cleaner. One source says that one of Hoover's salesmen, Ted Albee (who may have been Spangler's nephew), suggested that Hoover take a look at the portable vacuum cleaner. Another version says Spangler took his machine to New Berlin to show it to his cousin, Susan Troxel, who happened to be Hoover's wife. Susan's sons thought the machine outrageous and figured it'd fly apart, but it worked quite well, and she liked it so much, she bought it. Hoover told Albee he wanted an expert to examine one, and he replied that Susan had one, so Hoover should ask her.