Kent Historical Society Museum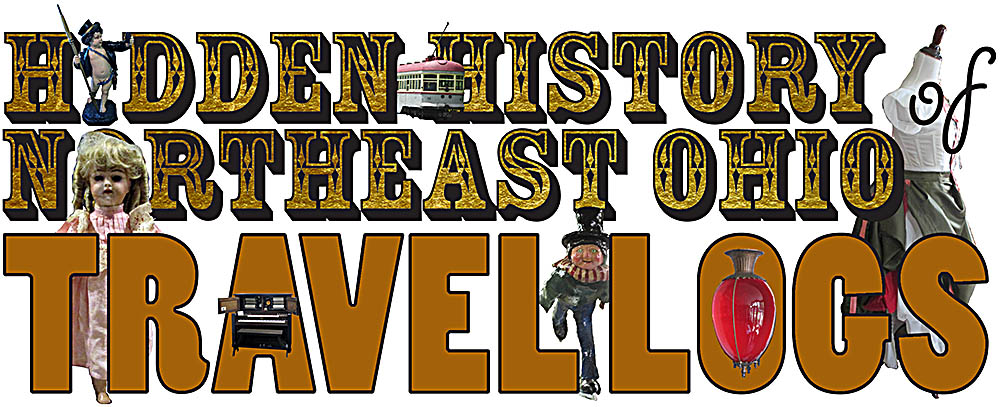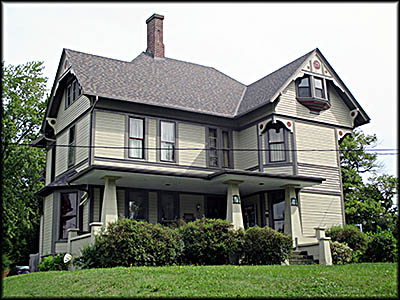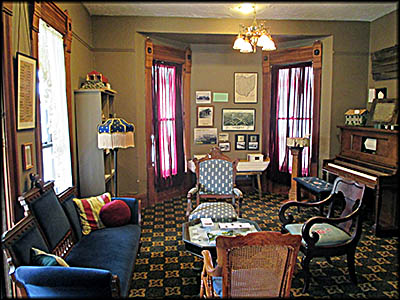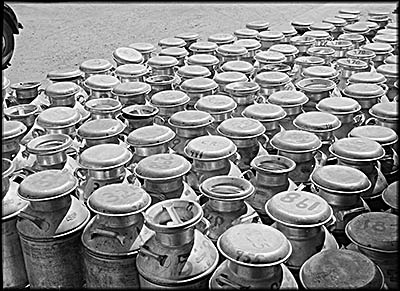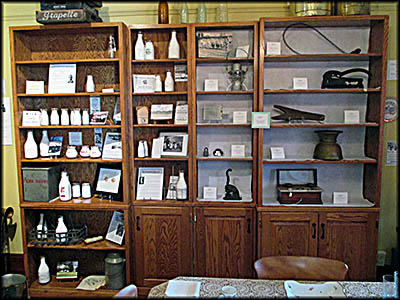 Items from Kent businesses that are no more.
Milk Cans
Library of Congress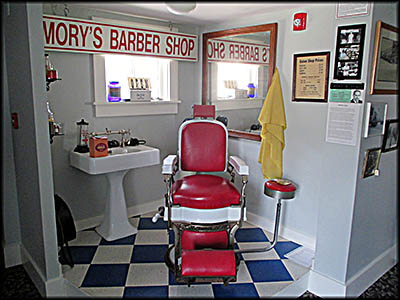 The Kent Historical Society Museum is hidden in plain sight, or at least it was for me. I passed it twice before noticing the sign in front of it telling me it was there. The museum began in 1971 in the Erie Depot Station, a building constructed in 1875. In 2011 the Kent State Historical Society bought the nineteenth-century Clapp-Woodward House and restored it to look as if it still existed in the Victorian era, then made it into its new museum. Marvin Kent had the house built for his sister, who had married into the Clapp family. During restoration work in 1978, the initials of Marvin's son, Leon, were discovered carved into a wall.
A temporary exhibit about defunct Kent businesses with a focus on local dairies and milk delivery services greeted me the day I visited. The first person to deliver milk in Kent was James Woodward, who before embarking on his daily delivery blew a bugle to alert his customers he was heading out. Customers not ready got no milk. Woodward used a horse-drawn wagon to move his product. In those early days milk was poured from a large container into whatever receptacle the recipient had on hand. It wasn't until the invention of the mass produced glass bottle that milk came in that type of container. Delivered milk was often raw, making it a vector for spreading bacterial diseases such as E. coli, Brucella, and Salmonella. Customer demand for pasteurized milk forced dairies unable to invest in the necessary equipment or to shut down.
Some dairy farmers who got into the milk delivery service began producing it on an industrial scale. The first of this type in Kent was Kent Sanitary Milk started in 1908. In 1920 Kent Sanitary Milk's owner, Jay R. Ferry, sold the business to Earl C. Tatgenhorst, who renamed it the Perfection Dairy Company. By the 1930s it served about eighty percent of Kent and operated in a thirty mile radius around the city.
One of Perfection's biggest competitors was Fenn Dairy. Its owner, Howard Fenn, opened a modern facility on State Route 261. Howard's brother, Todd, bought the business in 1952 and opened a store to sell its products. The store remained open until around 1960. The decline of the milk delivery business came about because of refrigeration, milk being readily available in supermarkets, and new techniques to extend its shelf life. There are still companies that deliver milk to your door in the United States. And as side note, milk delivery is usually associated with men—thus the word milkman—but a glance at 1940 U.S. Census records revealed that women also performed this job.
Kent Historical Society Museum
Another defunct Kent business is Herriff's Store that sold furniture and home decorating items. Its founder, Ira L. Henriff, added undertaking to its services, making me wonder if a partner in a relationship shopping here for furniture once said, "Hey, while we're at it, why don't we arrange for you mom's funeral?" Ira served many years as a funeral director and when he died, his wife, Belle E. Caris, took over his duties. One of the couple's daughters, Amy, became one of Ohio's first licensed female embalmers. She was also the principal of Kent High School. Their other daughter, Dene, went into teaching as well and in her spare time she helped out with the family business.
Information about another defunct business can be found in the museum's Main Street Room where you will find a partial facsimile of Emory's Barbershop complete with one of its chairs and sinks. Started in 1919, it shuttered in July 2011. Its last owner and namesake was Emory W. Vance. He had come from West Virginia to Kent in 1959 and began working at Murphy's Barbershop in 1962. In 1987 he bought the place and renamed it after himself.
One Kent business that is still around was started by John Davey, the man who popularized the fact that ailing trees could often be saved rather than cut down. His company eventually became employee-owned and is one of the most successful of its type, with operations around the world. Davey was born in 1846 in Somersetshire, England. In Torquay, a seaside town in Devonshire, he learned about horticulture and how to landscape. He, his wife Bertha, and their infant daughter moved to Kent in 1881 to become the Standing Rock Cemetery's sexton. As keeper of the grounds, he planted trees and landscaped. This led to his invention of what he called the science of tree surgery. He founded Davey Tree Expert Company, which still has its headquarters in Kent. He also became president of the Davey Institute.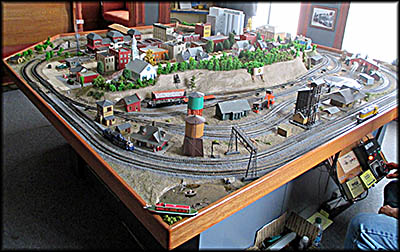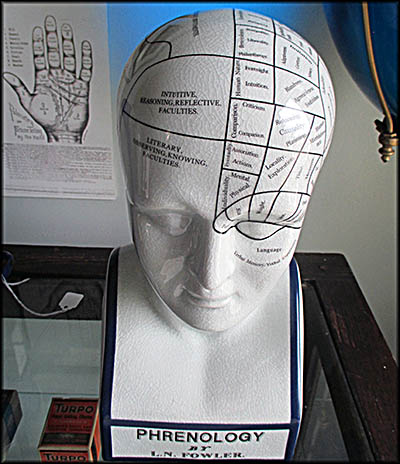 Phrenology is the discredited and frankly absurd idea that you could learn a person's personality and traits by the bumps on their head.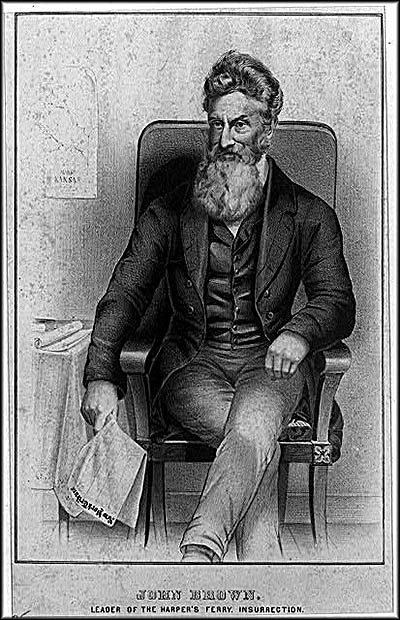 John Brown
Library of Congress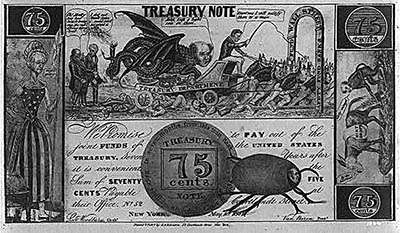 This parody treasury note was drawn up during the Panic of 1837.
Library of Congress
Despite not having learned to read and write until adulthood, he wrote several books about keeping ailing plants from dying, including his 1908 effort The Tree Doctor: The Care for Trees and Plants. A review of this in The Nation called it "entertaining" and noted that it "purports to give the results of long and devoted study of the diseases of our cultivated trees, and the methods of treatment. From the first to last the author presents the whole matter just as an enthusiastic tree-doctor might talk to a sympathetic audience. When he wishes to impart his information in verse, he does so, and not bad verse, either." It was filled with biting criticism of those who accused him of giving bad advice.
Davey's youngest son, Paul, invented a lightweight portable air compressor that could be used to blow the debris out of a tree cavity, leading to the creation of the Davey Compressor Company in 1929. During his lifetime, Paul created fifty designs that improved air compression and its related fields. In 1981 John Davey's great-grandson, Joseph Thomas Meyers II, founded Davy Kent, Inc., which began running Davey Drill, a division of Davey Compressor.
While the story of Kent's founding is in my book Hidden History of Northeast Ohio in the chapter about Portage County, here I will mention that the town was originally called Franklin Mills and only renamed Kent in 1867 in honor of local businessman Zenas Kent to thank him for his effort to get the railroad to go through town. This had brought Kent its first wave of prosperity. In 1835 he decided to start and tannery and invited none other than John Brown, he of Harpers Ferry fame, to run it.
Brown is one of those figures in American history who is both admirable and repulsive. Unlike most abolitionists, he believed blacks and whites were true equals, and he became good friends with many, including Frederick Douglass. Unfortunately his hatred of slavery led him down a far darker road than most. While in Kanas he and seven others coldly murdered five men in one night, hacking them to death with broadswords. A few years later he made his failed attempt at triggering a slave insurrection with his bungled raid on Harpers Ferry.
His early years gave little hint of what he was capable of. Born in Torrington, Connecticut, on May 9, 1800, he was raised in Hudson, Ohio, where his father ran a tannery. Though John had little formal education, he became a voracious reader, his favorites materials being the Bible and anti-slavery newspapers. His first wife, Dianthe Lusk, bore him his first seven children (out of twenty) before the last in 1832 caused her death.
In 1825 she and Brown left for Richmond, Pennsylvania, where for the next ten years he ran a successful tannery, served as postmaster, started a Congregational church, founded a school, and became a Mason. It was an opportune moment when Zenas contacted him about starting a tannery in Franklin Mills because by then his own had started to fail. At this point he didn't have enough money to relocate, so Kent loaned him $25 to make the move. Brown, his second wife, Mary, and their children moved to Hudson, which is about six miles from Franklin Mills. But when Kent realized just how erratic Brown was, he declined to let him run the new tannery.
Denied this partnership, Brown took work digging out the new Pennsylvania and Ohio Canal. Into this venture the State of Ohio invested $420,000 and private subscribers another $840,000. Designed to increase trade lost to the Erie Canal, its main route would stretch eighty-three miles from New Castle, Pennsylvania, to Akron. In its first twelve years it did well and was one of the reasons the Mahoning Valley and Akron both prospered, but starting in 1850 competition from the Cleveland & Mahoning Valley Railroad sparked the canal's decline, made worse when that railroad gained control of it in 1854 and raised canal tolls. The canal shut down in 1872.
Brown also tried to establish a boarding house and decided to replicate Kent's land speculation efforts with his own. Borrowing $7,000 money from Herman Oviatt and Frederick Wadsworth, he purchased the 92.5 acre farm of Frederick Haymaker with the plan to break it into lots he would sell off later when the canal increased this land's value. Unfortunately for him, he had bought his new property at its peak price. Undaunted, in 1836 he borrowed $350 from his father to start a tannery.
Then came the Panic of 1837. Hitting in May of that year, it was caused in large part by President Andrew Jackson's destruction of the Second Bank of the United States. The Panic devastated state banks because not enough specie existed to back the massive number of bank notes issued by both chartered and unchartered banks. The "panic" part of the Panic of 1837 came in the form of bank runs of people trying to cash their notes in for gold or silver. Its scarcity caused bank closures that wiped out the savings of many Americans. Securities and stock markets fell as well. Things recovered briefly, then crashed again in 1839. The U.S. economy didn't stabilize until 1843.
The Panic didn't stop Brown from borrowing still more money for a variety of business ventures, all of which failed. In 1838 alone his ventures included breeding race horses, buying and selling Saxony sheep, selling scythes as an agent for a New York firm, and a cattle drive. In 1842 he declared bankruptcy, causing him to lose what few possessions he still had. One of his surviving sons took away from this that borrowing money to build a business from scratch was a horrible idea and he tried to teach all his own children that lesson.
Brown eventually headed to Kanas to participate in the struggle between pro- and anti-slavery settlers. In 1859 he made his fateful decision to raid Harpers Ferry in an effort to arm slaves for an insurrection. This resulted in his being tried and found guilty of slave insurrection, treason against Virginia, and murder. When executed on December 2, 1859, the people of Franklin Mills turned out for a mass protest and bells tolled from one to two in the afternoon.
🕜