Liberty Aviation Museum
Liberty Aviation Museum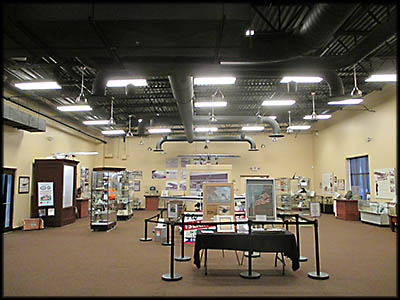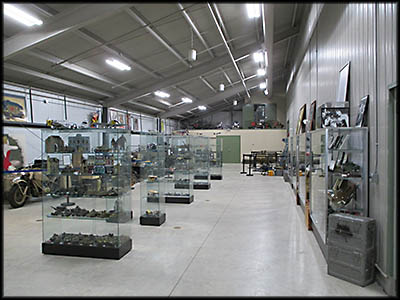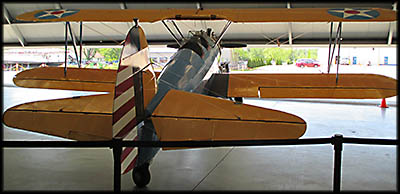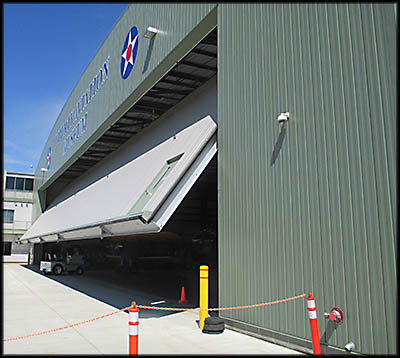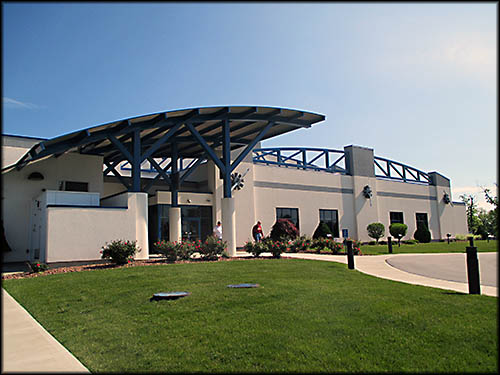 Garage sales don't often yield entire museums, but that's what happened. I needed a lamp for my basement and wasn't keen on buying a new one since no one was going to see it except for me anyway. That, and its sole purpose was to illuminate a specific area for about five minutes a day. I thought the best (and cheapest) way for said acquisition was to pick one up at a garage sale. But this was in early April, so Garage Sale Season hadn't really started in earnest. Using the Web, I found an estate sale in Port Clinton, Ohio, which is about forty-five minutes away from where I live.
Alas, it was a bust. Undaunted, I bought a local newspaper to see if any more sales were on in the area. There was one more nearby, but by now it was getting towards lunch time, so I decided to eat before proceeding any further. The night before this little venture I had used Yelp! to look for local restaurants, preferably of the non-chain type. Here I found the Tin Goose Diner, a retro-looking establishment that had gotten some pretty good reviews. Imagine my surprise upon arriving to see that it was attached a museum I didn't know existed.
This was the Liberty Aviation Museum at the Erie-Ottawa International Airport. Port Clinton is a small town along Lake Erie's southern shore that has the luck of being a prime vacation spot thanks to its proximity to Put-in-Bay, Kelly's Island, and other nearby lake isles near which Oliver Hazard Perry fought the Battle of Lake Erie. The introduction of reliable commercial aircraft changed life on these islands. In 1930, Milton "Red" Hersberger founded the islands' first air service, Erie Isle Airways, a bold thing to do considering this was one of the darkest years of the Great Depression. For his first few years of operation, he flew Waco and Standard open cockpit biplanes. After winning a contract to deliver the U.S. Mail in 1931, increased cargo loads forced him to find something larger and more robust. In 1934 he bought his first Ford Tri-Motor, an all metal enclosed plane that, like its name implies, is powered by three engines. He ultimately acquired four of them, which replaced the biplanes.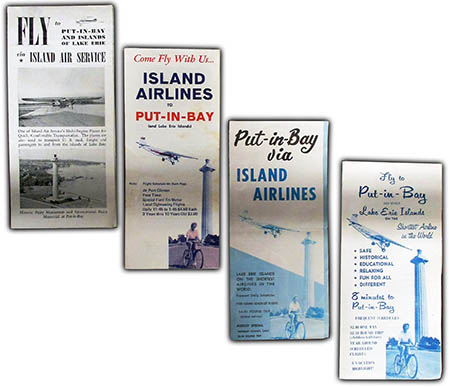 The Tri-Motor was known as the Tin-Goose (thus the museum diner's name). Henry Ford figured that since mass producing cars had done so well, he might as well try his hand at doing the same with airplanes. In 1926 he built a 60,000 square foot facility to do just that, which operated until 1932. The Tri-Motor had many innovations. It was made out of an all-metal frame with its first seats being made of wicker, though these evolved into something far sturdier in later models. Early commercial carriers such as American Airways, Pan-American, and Northwest all used Tri-Motor planes. Ford also built America's first passenger terminal at which one could find the Dearborn Inn, the first airport hotel. In 1925 he started the first corporate airline, Ford Air Service, to, according to the museum, "carry freight and company mail between … [Ford's] factories in Detroit and Chicago." Ford's engineers also developed the first radio beacon to aid pilots flying at night or during foul weather.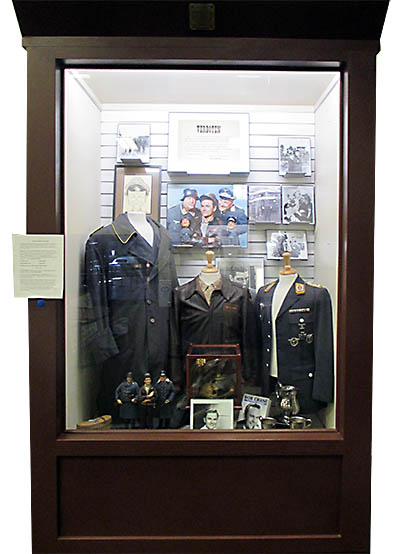 Costumes from the television
show Hogan's Heroes.
To the left of the lobby is a much larger room filled with planes and a variety World War II military vehicles. Here you will see a B-25, a TBM-Avenger, and a bi-plane whose make and model I didn't learn. Presuming, that is, they aren't in use. On the hanger's far side was a fellow building a brand new Ford Tri-Motor plane from scratch. Past him was a much smaller room filled with all sorts of stuff, including movie posters, period artifacts like a pack of cigarettes, military ribbons, and a large number of model airplanes. While in the second hanger, one of the museum's employees embedded himself with my group and essentially gave us a personal tour, informing us that if we waited around a bit, we could watch the B-25 take to the air. This we did, although you'll see no photos or video of it flying here because my camera battery died.
🕜
I didn't explore the museum on the day I found it, but rather visited a month later. What it lacks in budget it makes up in heart and dedication. Its sparsely decorated interiors are part of its charm. It is divided into two unconnected hangers that are themselves subdivided into various rooms. The first room of the first hanger—the first place you go—is filled with an eclectic mix of items, including costumes from the 1960s television show Hogan's Heroes. In an adjoining room you can view a 20-minute vintage documentary on Lake Erie ice fishing. In the largest room of the first hanger you will find actual planes. If, that is, that haven't taken to the sky. When I visited there was just one: a 1940 Howard DGA 15P.
You enter the second hanger via a small entrance lobby. To the right is a workshop where a PT boat is being restored. Having never seen one of these craft in person before, I was astounded just how large it was. Equally surprising was the fact that it is made entirely out of wood. Small wonder few still exist. Once restored, the museum will use it to offer boat rides on Lake Erie.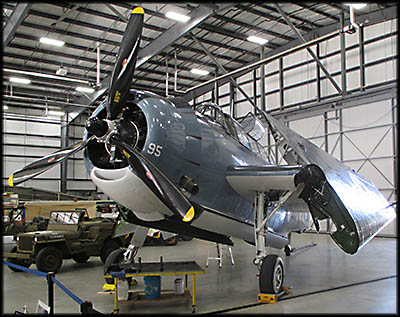 1940 Howard DGA 15 P Plane