Lorain County History Center & The Hickories

Lorain County History Center & The Hickories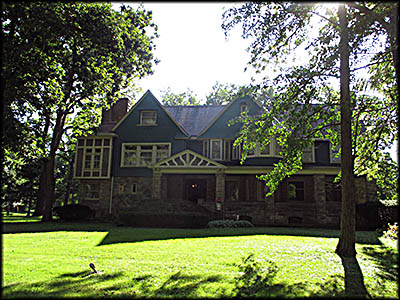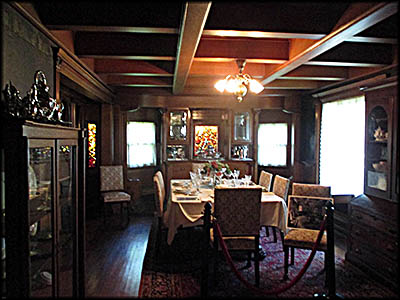 The Hickories' Dining Room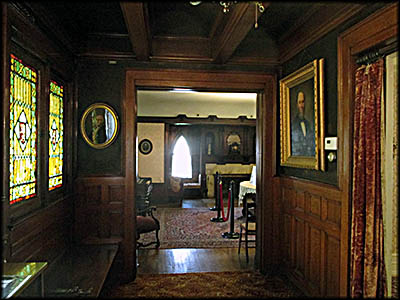 The Hickories' Front (Formal) Entrance
The Hickories' Master Bedroom. The wheelchairs were built by Worthington Manufacturing, a company owned by Arthur Garford that is now known as Invacare.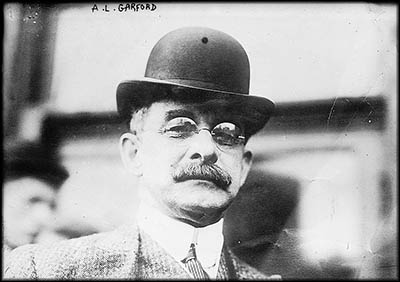 Arthur L. Garford
Library of Congress
In 1892, an Elyria, Ohio, bank clerk named Arthur L. Garford tired of his butt hurting while riding his bicycle, so he covered his seat with padded leather. All his friends and fellow bicycle enthusiasts liked it so well, he patented it. It made him a fortune. The most amazing part is just how long it took for someone to think of this. The pedal-powered bicycle from which the modern version is derived debuted in France in 1867, yet it wasn't until 1892 that someone decided to replace the hard wooden seat with a padded one.
After becoming rich, Garford built himself a spectacular house on Elyria's Washington Avenue known as The Hickories because when constructed, there were thirty shag bark hickory trees on the property. Thirteen remain. The house isn't large enough to qualify as a mansion, but it is still pretty big and its architecture and interior are something to behold. The Lorain County Historical Society (LCHS) runs the property and offers tours.
As anyone who's read some of my other travel logs may recall, I'm not all that interested in architecture and interior design, but this house was in a league of its own and I found myself fascinated by its features. It's filled with hand-carved paneling and, more intriguingly, a good number of carved heads, the purpose of which have been lost to history. Throughout the house, too, are a variety of carved sayings, none of which I had the presence of mind to record for this log.
The Hickories was the first house in Elyria to have indoor plumbing, central heating and electric, although the last was only good until 4 p.m. at which point it was turned off for the day. As a result, all the house's lighting fixtures are equipped for both light bulbs and gas. The parts of the house's interior walls not covered by wood paneling were once painted gold, but Mrs. Garford felt that was too gaudy, so she had them painted over with a dark gray. She also disliked regular glass windows, so her husband sprung for expensive crystal windows and a good many beautiful stained glass ones.

Throughout the house are buttons to call the servants, with the call box being in the kitchen. There are also speaking tubes. The house had a living room, which was novel in the last decade of the nineteenth century. Here the family gathered and probably did things such as play games. In the dining room one chair was extra high to accommodate Mrs. Garford's diminutive statue. The Garfords were very religious and had a chapel installed with a well-worn bench that shows its extensive use.
Hanging on the other side of the wall that partitions the chapel from the rest of the house is an exceptionally large stuffed bull moose head. In 1912, Garford joined former President Teddy Roosevelt's Bull Moose Party and ran as its candidate for Ohio governor and senator. Although Garford lost both races, for his effort Roosevelt gifted Garford with the taxidermized bull moose head proudly on display today. One presumes Roosevelt is the man who killed the beast.
I came to The Hickories to get a sense of Garford because of a new book I'm writing highlighting the padded bike seat, and the staff very kindly removed an original seat from a glass case to allow me to take a photo (which I plan to include in my new book, so you won't see it here). With this mission accomplished, I walked a couple blocks down the street to visit the LCHS's museum, the Lorain County History Center.
The first thing a person sees upon entering is a soap box derby car. The one in the museum once participated in the 1967 All American Soap Box Derby in Akron, Ohio. Driven (if that's really the proper term) by David W. Gard of Elyria, it won the Lorain County Qualifier Event and was sponsored by the Amherst Jaycees.
General Industries was founded in Elyria in 1903 as the Dean Electric Company, which made telegraph switchboards and car horns. In 1914 it was bought by Garford Manufacturing, another company started by Arthur Garford. This was sold to Otto Heineman, who renamed it the General Phonograph Manufacturing Company Division. In 1925 General Phonograph spun off General Industries, which made phonograph record changers for Zenith and Capehart. In 1936 it added injection molding to its capabilities, so that during World War II, it produced a plastic part for the Browning Automatic Rifle (BAR), plastic canteen bottles, mortar shell fuses, and parts for radio control. Other E-Awards for Lorain County industries included American Radiator Cap, Bendix, Colson Corporation, K & S Tool, National Tube, and Perry Fay.

This fish was once used a promotional piece to
entice people to visit the Lorain County Historical Center.
The city of Lorain once had a shipyard with two drydocks operated by the American Shipbuilding Company (AmShip). This company, originally founded in 1886 as the Cleveland Shipbuilding Company, constructed, among other things, iron ore cargo ships. By 1950 it was the largest ship builder on the Great Lakes, and in 1972 it bought Tampa Ship & Dry Docks. By the 1980s, the Midwest's industrial might had waned, its need for ore carrying ship diminished, so in 1984 the Lorain yard was closed.
During World War II, AmShip built the frigate USS Lorain, which was sold to the French in 1947. A museum information sign says that AmShip also built the aircraft carrier USS Sable, but this is a bit misleading. In 1924, AmShip built a paddlewheel luxury liner launched as the Greater Buffalo, and during World War II, it was converted to an aircraft carrier training ship. The conversion was done by AmShip at its Buffalo, New York, docks. One aircraft carrier pilot train who trained on the Sable was none other than George H. W. Bush.
Another Lorain County industry critical to the war effort was steel production. The county became a steel-producing powerhouse because of its geography: it was along Lake Erie, had the Black River flowing through it, and had an extensive rail system. But the bigger your rail system, the more likely you are to have train accidents. A major one occurred in the village of Kipton on April 19, 1891, on tracks owned by the Lake Shore & Michigan Railroad.
Mail train No. 14 was going eastbound at 55 miles per hour when it collided head on with the westbound Toledo express No. 21 at Kipton Station, causing both trains to telescope. Several cars were reduced to splinters. No. 21, being a passenger train, was supposed to stop at Oberlin but continued on to Kipton where it normally moved to a siding to allow No. 14 to pass. Being late, it didn't have time to so do, and a terrible wreck resulted. Both trains' engineers as well as four mail clerks were killed. Amazingly, although they suffered injuries, no passengers died.
A newspaper report about this wreck in New Orleans' Daily Picayune said without sparing readers any gory details: "The engine of the Toledo Express was knocked squarely across the track, and that of the fast mail reared in the air, resting on top of the other.… The force of the collision was so great that of the sixty-four revolving chairs in the two parlor cars, only four remained attached.… Charles Topliff, the engineer of the fast mail, remained bravely at his post and was found with his hand om the throttle, dead. His hands and face were so badly scalded that the blackened flesh dropped from the bones."
🕜
This bull moose head hangs on a wall in The Hickories.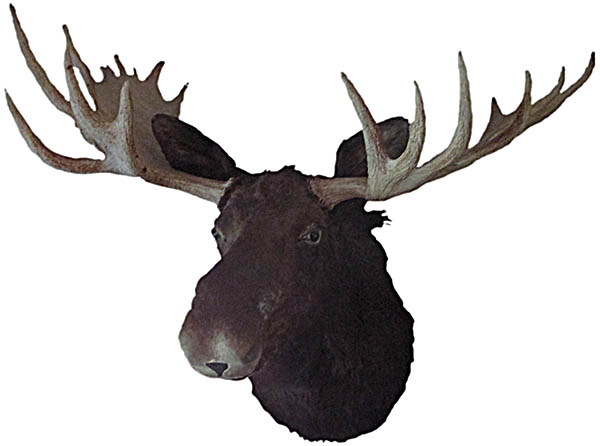 If you're a bell enthusiast, this is the place to come. There is a good-sized one on display. It once hung in Elyria's original court house on Ely Street from 1849 to 1880. The county gave it to St. Andrew's Church, which it rang until 1938, at which time it was put into storage. In 1972, the church donated it to the LCHS. At that point it wandered in the wilderness until finally finding a permanent home in the museum.
On the day I visited, there was an exhibit about the Woman's Suffrage movement in Lorain County. Woman's suffrage launched in earnest in July 1848 at Seneca Falls, New York, where Elizabeth Cady Stanton and Lucretia Mott led a meeting to discuss the matter. The movement culminated with the ratification of the 19th Amendment on August 18, 1920, which gave women the right to vote anywhere in the United States. It's a right that on a moral level they should never had to fight for in the first place.
Even before the 19th Amendment, women ran for and won elected offices in Lorain County. Once such person was Emma Olds, who was elected to the Elyria School Board in 1911. After 19th Amendment passed, former Lorain County suffragettes won elected offices. Mabel Marsh became the first woman to win a county-wide election in 1922 when she was elected the Clerk of Courts. But equality did not come easily. It wasn't until 1976 that Elyria elected its first female mayor, Marguerite Bowman, who served until 1979.
As I headed to the stairs to visit the upper floor, I stopped in my tracks to take a closer look at an unusual-looking item: a fish on a pole that proudly says, "Lorain County Historical Society." This was a head-scratcher. What does a fish have to do with the LCHS? Despite the proximity of the Black River and Lake Erie, fishing was never a huge industry in Lorain County. So I asked about it, and learned that years ago the city of Elyria decided to promote its various attractions by putting fish signs up everywhere so one could "catch" the sites. Or something like that. The staff member who explained this to me remembered the event but not that many details.
The hallway you see upon getting to the top of the stairs is used as part of the museum's World War II exhibit. Here a variety of information signs explain how different Lorain County industries contributed to the war effort. Cranes built by the Thew Shovel Company in Lorain were sent to the European front. Elyria's Colson Company made a collapsible litter carrier. Bendix-Westinghouse made air supply units for the Army.
Many of these companies received an E-award. The "E" stands for "excellence." Lorain County Historical Center's staff member Donna sent me the following email explaining more about it: "During WWII the US Army & Navy gave the 'E' award for high achievement in material production. Locally, General Industries earned the award three times during the war."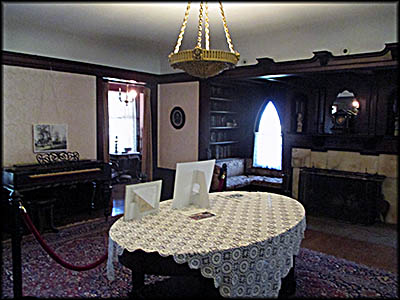 The Hickories' Living Room. The table was probably used for family activities such as playing games.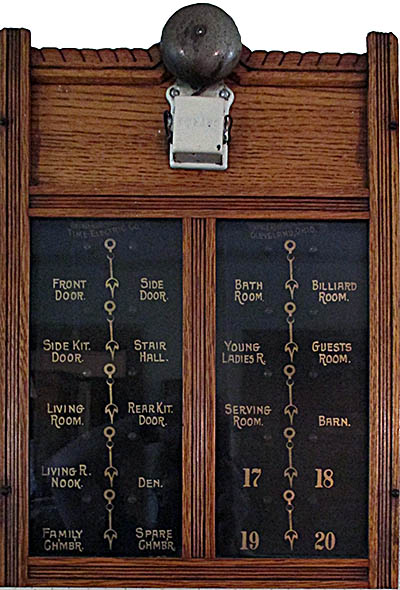 The Garford family's servants
would respond to this bell when it rang.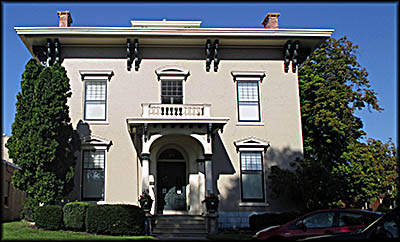 Lorain County Historical Center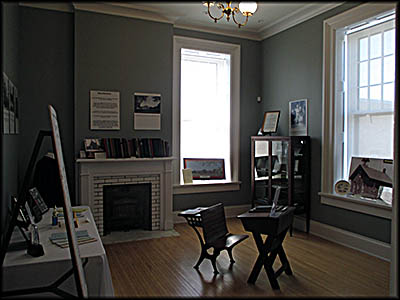 Inside the Lorain County Historical Center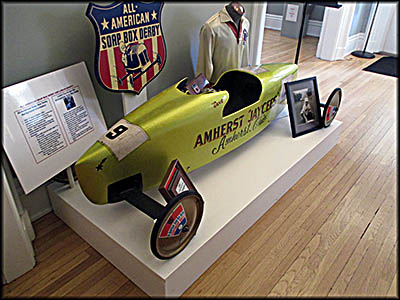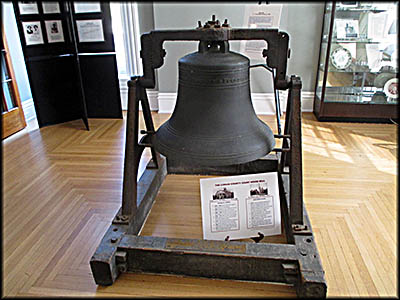 Lorain County Bell (Retired)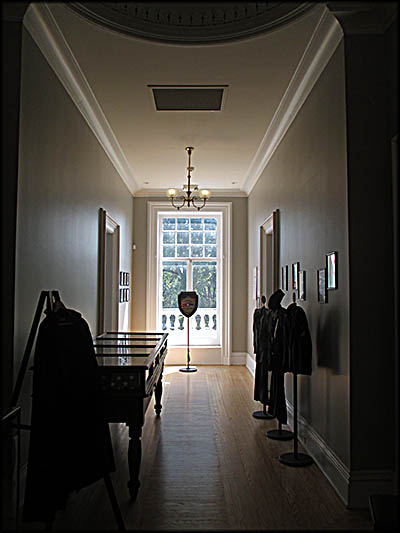 Hall Portion of the World War II Exhibit