Wood County Museum
Wood County Museum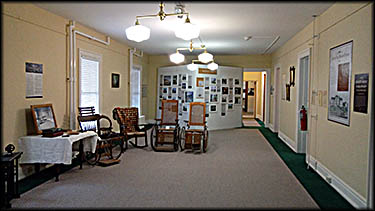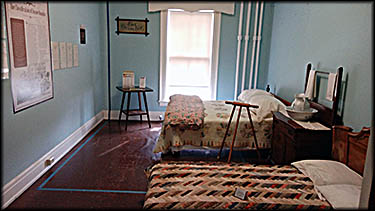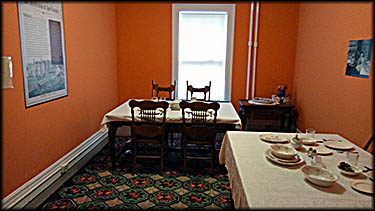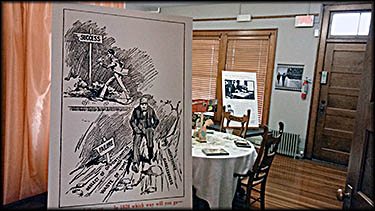 Wood County Historical Center & Museum
My unexpected visit to the Wood County Museum has its origin in a car wreck I wasn't in. Recently my uncle crashed his Buick La Sabre, and while he and his passengers were fine, the car was not. Deemed a total loss, it left my uncle with a bit of a problem He wanted a replacement of the same vintage from the early 2000s, so I went online and found a good candidate at a dealership in Bowling Green, Ohio. Being without wheels, my uncle asked if I would drive him there, which I did. As we neared our turn off on Route 6, I saw a sign pointing down a road that said: "Wood County Historical Center & Museum." This surprised me because back in the early 1990s I lived in this city as a student attending its university, and I must've passed this place hundreds of times while going back and forth from home, yet I never noticed it.
My uncle liked the car and bought it, leaving me free to visit the museum before going home. About it I knew nothing. Before going inside, I wandered the grounds to take some photos. While doing so, I found an Ohio Historical Marker that said that between 1869 and 1971 it served as the Wood County Infirmary. Well it looked like no hospital I'd ever seen, and reading further, I discovered why. Infirmary is a misleading term because this facility's purpose was to house Wood County's poor.
Never have I learned more regional history from a single museum than here. In 1816, the Ohio General Assembly established boards of county commissioners to create poor houses in every county, though it wasn't until 1864 that all had one. The Ohio State Board of Charities (OSBC) was established in 1867 to inspect and write an annual report on these poor houses with recommendations for improvements. The first report concluded that the two most essential qualities of these facilities were "the comfort of those to whom the charities are extended" and "the convenience of those immediately charged with the dispensation of public charities."
Although established as working farms with the idea that residents would be a source of labor in exchange for food and lodging, this goal failed because most of infirmary's residents could no more work a farm than Abraham Lincoln could dance in the Nutcracker. Residents were mostly old or sick or blind or lame or mentally ill or some combination thereof. There were also a lot of children. By 1873, the OSBC decided running large farms wasn't economical and instead suggested that infirmaries only needed an orchard, pasture and big garden. The OSBC also changed the name of this institutions from "poor farms" to the more humane-sounding "infirmaries."

Residents were segregated by sex. At the Wood County Infirmary, "the men lived in the east wing, first and second floors [and] the women lived in the center wing, second floor." The sexes were separated by a locked door only opened on Sunday morning so all could gather for a church service. It is hard to judge how crowded the living quarters were. As the lone person wandering through the main house's halls and rooms, it seemed like there was ample space. But put enough people there and I imagine it would get rather crowded.
The OSBC decided children would not for the most part be admitted to the state's infirmaries. Instead they would be put into orphanages because authorities worried mixing them in with impoverished adults would have a corrupting influence. Only children under the age of one were allowed to stay with their mothers. Although each county was required to build an orphanage, many took years to do so or never built one at all. In its early days, the Wood County Infirmary had no orphanage, so it instead indentured or fostered orphans to local families, which probable was not a pleasant experience for the little ones. Some were sent to the Cleveland Protestant Orphan's Asylum. It wasn't until 1913 that Wood County opened its Children's Home, which was located in Bowling Green rather than on the infirmary grounds.
Protestant Christianity was major influence on the philosophy behind running the state's infirmaries, which included the dogma that cleanliness is next to godliness. Whatever one's theological disposition, this was certainly an excellent policy because good hygiene prevented the outbreak of many communicable diseases of that era, including cholera, typhus and typhoid fever. John Keiser, superintendent of the Fairfield County Infirmary, wrote in his 1911 annual report to the OSBC that it was his facility's policy to examine new residents carefully. If clothes were too filthy for redemption, they would be burned. Next came a bath, to which one 73-year-old woman strenuously objected, saying "she had never had a bath in her life … and thought she was too old to begin now. Nevertheless, she got" one.
Reports are one thing, but reality was apparently different, because in 1920 Secretary of Labor James J. Davis gave a speech to the national conventions of the American Legion, the Loyal Order of the Moose, the National Fraternal Congress, the American Federation of Labor, and the America Legion in which he argued that the infirmaries "were badly mismanaged, maintained at an exorbitant cost," and plagued by inhumanity and neglect. Certainly they had issues. Superintendents, for example, often gained their jobs through political influence or a willingness to take less pay than a qualified person rather than an ability to do the job.

The former Huron County Infirmary building complex is so I was only able to get the lot of it into a single photograph at an angle.
Undaunted, a few days later I went looking for it. With the help of a local librarian, I discovered not only did the building still stand, I'd been in many times because it once housed the county's license bureau. Now only the F.I. Community, Inc. and the Services for Aging remain, though I've been informed the county is trying to move them out so it can demolish the place, the same fate suffered by the majority of its sister infirmaries. I hope someone can save Huron County's, possibly making it into a museum.
Although the Wood County Historical Center & Museum dedicated much of its space to both its own history and that of its sister county infirmaries, there are two rooms jam-packed with historical objects detailing how people once lived in Wood County. In one room a 1920–1939 timeline made to look like a strip of film crawls across the walls with all sort of interesting bits of information. On January 1, 1939, for example, "Luther Simjian patented the first Automated Teller Machine." Who knew that this technology, even if analog, was that old? Also on display is a detailed carousel model made by Thomas McLaughlin, Sr., a native of Bowling Green. While I have little interest in clothes, I did find the display of historic wear hanging from clotheslines quite well done.
Had I more time and ambition, I might have visited the many outbuildings and other interesting things to see on the museum's ground, such as the Pauper's Cemetery, Linwood Road Pedestrian Bridge (I can't resist a footbridge), and the Lyle Fletcher Arboretum. As it was, I took a peak of the herb garden—not much to see in early March—and the staff opened the Lunatic Asylum for me to go in, which is being repaired. If you want to film a movie with a scary, depressing asylum for the mentally ill, this is the place to go. The rooms in which patients were kept are cramped, sparse, and unpleasant. The building was only used to house the mentally ill until the early 1900s. During the Great Depression it served as a men's dormitory to house the overflow of impoverished people needing shelter.
🕜
The museum has fewer historical artifacts overall than many other historical societies, but the rooms themselves are the thing to see here. Pasted along the walls in both the halls and rooms are numerous Certificates of Application for Relief that give all the details of why those who once dwelled here did so. There are also four displays listing all 88 county infirmaries and their eventual fate. Photos exist for many, though for some not even that is left.
Since I've lived nearly all my life in Huron County, I was especially keen to see what its infirmary looked like. I also wanted to know if it still stood, and, if yes, whether or not I had ever seen it. I couldn't find it, so I asked two members of the museum staff about its locations. One of them helped me find it on the wall opposite the display it ought to have been on. Although the photograph of the Huron County Infirmary has the distinction of being larger than all others, it was disappointingly useless. It was a closeup that only showed a small part of the building, making it unrecognizable. Nor was a location given.