Cleveland History Center
Cleveland History Center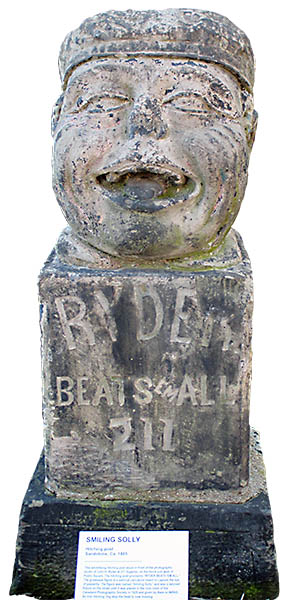 Smiling Solly Hitching Post Ad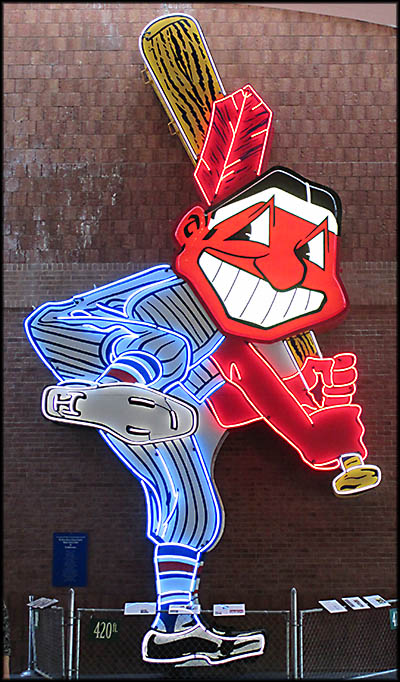 Chief Wahoo (in a Museum Where He Belongs)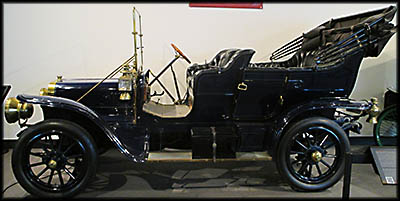 Someone suggested I might like to visit the Crawford Auto Aviation Museum in Cleveland, Ohio. Although I'm neither a gear-head nor much of a car enthusiast per se, I've always found the history of auto making interesting and love to look at antique cars, so I decided to go. To find its address I looked for its official website online but only found a single page about it on the Western Reserve Historical Society's (WRHS) website. Which notably had no address. So I called the WRHS for help, and the very informative person on the other end told me the Crawford Auto Aviation Museum is just part of the larger Cleveland History Center which is run by the WRHS, the same organization that operates Hale Farm & Village about which I wrote a travel log
in 2015. The Cleveland History Center is near Cleveland's University Circle, an area crowded museums such as the Cleveland Natural History Museum and Cleveland Museum of Art. I've visited these and others yet never noticed the Cleveland History Center, or, if I had, since forgot about it.
After parking in the facility's lot (which charges by the hour), my traveling companions and I headed towards what turned out to be the rear entrance. Before going in we stopped to examine an usual-looking artifact called "Smiling Solly," a hitching post created around 1885 which once stood in front of John H. Ryder's photographic studio on Superior Street and included slogan: "RYDER BEATS 'EM ALL." Because of the geography involved, it is difficult to see the entire Cleveland History Center at once from outside, and even when you do, it appears much smaller than it really is, which you realize the moment you first enter. Within is a large, high-ceilinged room filled with a spectacular mural and, more controversially, a 28-foot-high low relief neon sculpture of Chief Wahoo, mascot of the Cleveland Indians. Controversial because not everyone will find this stereotyped caricature of a Native American all that endearing. To our right was a reference library that still uses an index card-based catalog, and to our left a ramp that took us to the front entrance from which we saw into the vast space known as the Crawford Auto Aviation Museum.
Those not especially interested in cars, expositions and carousels need not despair. An entire wing of the museum is filled with an eclectic mix of themed exhibits including two rooms and a garden from the Bingham-Hanna Mansion, the Chisholm Halle Costume Wing (a bit more on that later), Power & Politics, the Hay-McKinney House and Garden (for which you pay extra and something I did not see), and Bob Hope: An American Treasure. This last one surprised me because I had no idea he had anything to do with Cleveland, but it turns out he grew up in the city. His exhibit is jam-packed with a large number of competing movie and television clips, but it's not hard to concentrate on any given one because each monitor has closed captioning on.

I had little interest in the Chisholm Halle Costume Wing but two of its items did catch my attention: a pair of slippers with the caricatured heads of George H.W. Bush and his wife, Barbara, and a Nixon dress made out of paper. The former was a promotional item sold during Bush's 1988 election bid, though I'm not sure if it was mocking or supporting him for president. The Nixon dress intrigued me because I wondered what would have happened if someone wearing it got rained on. Probably much embarrassment would have ensued.
These slippers are George H.W. and Barbara Bush.
As I wandered through this portion of the museum, I came across a few surprises. One was a window created by the Tiffany Company between 1914 and 1918. While I love Tiffany windows, this one was a less successful effort. It originally belonged to the First Unitarian Church on Euclid Avenue in Cleveland and was a memorial to Almira L. White, wife of Thomas H. White, the sewing machine maker whose sons started producing steam powered cars. In the room next door one will find the Eliotville Train Set, a large scale setup that runs if you press a button. There are three levels of tracks but trains only run on the bottom and topmost of these. A trolley also makes it way back and forth on the bottom level.
The Cleveland History Center has on display far more than I've covered here and is well worth seeing. Like many museums I've visited, there is no obvious order in which I person should view the exhibit rooms, so as usual I got this wrong. When you reach the two rooms from the Hay-McKinney House, turn right and go into the drawing room and not left into the dining like I did.
🕜
This spans two floors: the main one and a basement, the latter having enough cars in it to qualify as a parking lot with no spaces left. The upper level contains mostly automobiles built in Cleveland as well as a smaller section on the aviation industry and Cleveland's involvement in it. On display are two racing planes, a gondola once used by the Good Year Blimp, and a small open bi-plane. On the day we visited, a historical re-enactor portraying race champion Roscoe Turner gave us a bit of his persona's background in racing as well some information about Cleveland's involvement in the aviation industry.
When I visit a history museum I like to discover new things, and here I wasn't disappointed. I learned, for example, that northeast Ohio was once a major center of car production. According to one of its information signs, "between 1892 and 1932 approximately 115 automobile companies existed in northeast Ohio and from 1896 until 1907" it was the largest producer of automobiles in America. Detroit overtook northeast Ohio as the biggest car manufacturing center in America when Ford introduced the Model T in 1908. All 115 northeast Ohio companies found on a list in the museum ultimately failed, some of them finally shuttering because of the Great Depression.
Euclid Beach Park Grand Carousel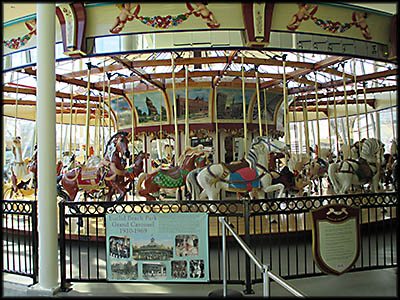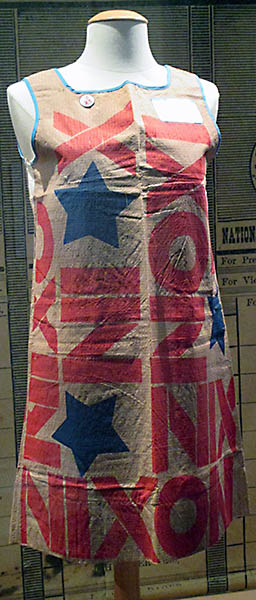 Almiral L. White Memorial Window
One of the more intriguing vehicles on display was a hybrid built between 1916 and 1918 by Owen Magnetic. This vehicle's gasoline engine did not power the car directly but rather generated the electricity that propelled it, giving it a smooth ride. It had a magnetic transmission rather than gear-based one plus electric brakes. Its steep price kept it from selling well, and after building about 700 of them, Owen Magnetic shuttered in 1921 or 1922 (sources differ).
The car on display built by the Elmore Manufacturing Company was interesting to me not because of its design or innovations but rather its place of origin. It was made in Clyde,
Ohio, a small town in Sandusky County whose two biggest claims to fame are Civil War major general James Birdseye McPherson and author Sherwood Anderson, who wrote about a fictionalized version of Clyde called Winesburg. Clyde is part of my family history: it is where my father and aunt grew up and the town in which my grandfather owned and operated an auto repair garage. The Elmore Manufacturing Company started life as a bicycle builder (as did many auto startups in its era) and began making cars in 1900, though it did not produce a vehicle for public consumption until 1902. Its vehicles, at first powered by 2-cycle engines, became popular as taxicabs. The company was purchased by General Motors in 1908, then shut down the next year by the new GM president, Thomas Nash, who had probably done so because it was too far from Detroit for it to be properly integrated into the company.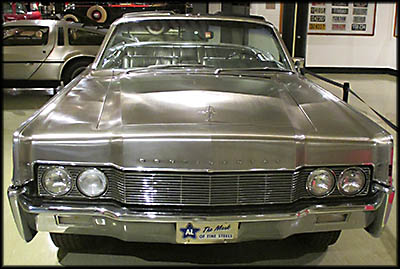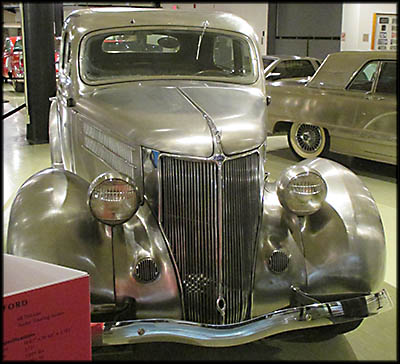 The Ford Motor Company made a few specialty stainless steel bodied vehicles. From left to right (top to bottom on a mobile device): 1960 Ford Thunderbird, 1966 Lincoln 86, 1936 Ford Model 68 Deluxe.
The Crawford collection's main floor shares space with other exhibits, including a series of posters and other promotional pieces for the now forgotten 1936 Great Lakes Exposition in Cleveland, which opened in the last week of June. This fair, which included rides, entertainment, and buildings dedicated to local companies to promote them, was meant to aid Cleveland's ailing economy, which was hit hard by Great Depression. Despite being built on the site of a dump, the Exposition was so successful a second one appeared the next year.
Another item found on the main floor alongside the Crawford collection is the Euclid Beach Park Carousel upon which you can ride and for which you receive two tokens when you pay to get in. It costs just one to ride, so you can go twice if you so desire. While I'm hardly a carousel enthusiast, I have to admit it is a beautiful thing to behold. It was originally a ride in the now defunct Euclid Beach Park that stood along the shore of Lake Erie on the northeastern side of Cleveland. Called the Grand Carousel, it was built by the Philadelphia Toboggan Company and installed in the park in 1910. Upon the park's closure in 1969, it moved to a Maine resort town that used it until 1996. Sold at auction, Cleveland bought it back with Trust for Public Land funds in 1997. The hand-carved horses and chariots were restored to their 1910 appearance and the carousel itself installed in the Cleveland History Museum. It began operation on July 23, 2016.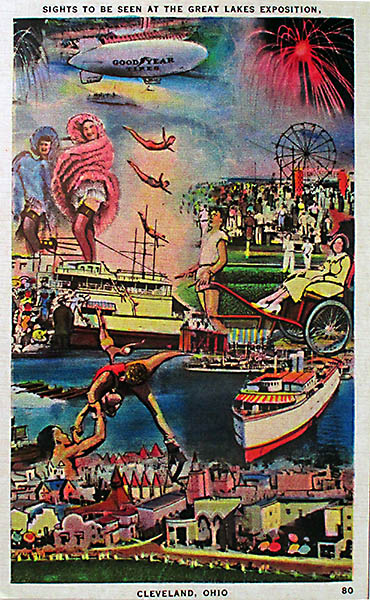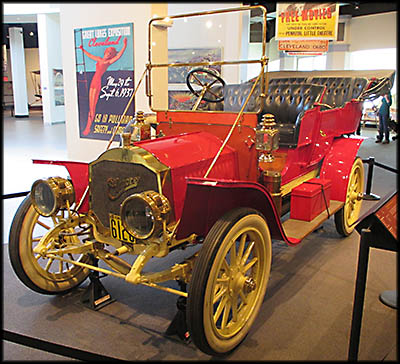 1926 Jordon Model A House Car